Disclosure: Some of the links to products in this article are affiliate links. It simply means, at no additional cost to you, we'll earn a commission if you click through and buy any product.
Currently, Rank Math is the leading SEO plugin after Yoast, and it is offering a lot more feature for free that are not available for free in any of the SEO WordPress Plugin. In this article I will help you to shift from Yoast To Rank Math without losing even single traffic.
Once you used the Rank Math properly you can have a massive boost in the traffic, and the best feature that I loved in this plugin is automatic URL redirection and 404 monitoring.
To migrate from Yoast SEO to Rank Math you don't need any extra importer plugin as Rank Math itself contains its own importer that will help you in importing all the data from Yoast in just a few seconds.
But make sure yoast must be installed when the migration is going on.
How To Shift From Yoast To Rank Math? (Step By Step)
Here we will go through step-by-step tutorial to shift data from Yoast SEO to Rank Math, and I guarantee that you will not lose even single traffic after following this procedure.
Create Rank Math Account
Before you start importing data first of all you have to create an account on Rank Math. Creating Rank Math account is as simple as signing up on any other online website.
Sign In Facebook, Google, WordPress or Click Register Now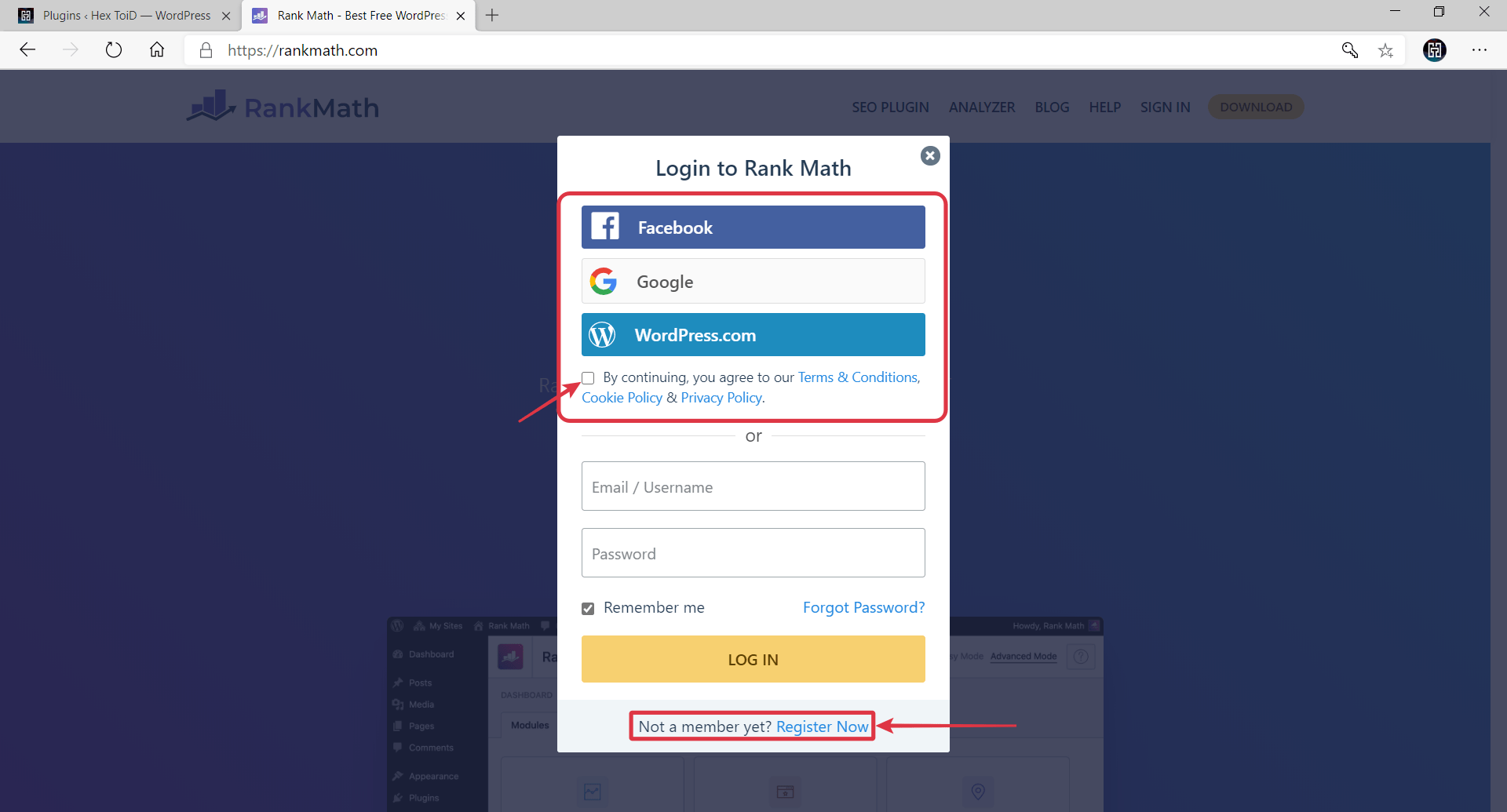 After completing Registration process Username and Password will be sent to your email account
Click on login to recheck if it is incorrect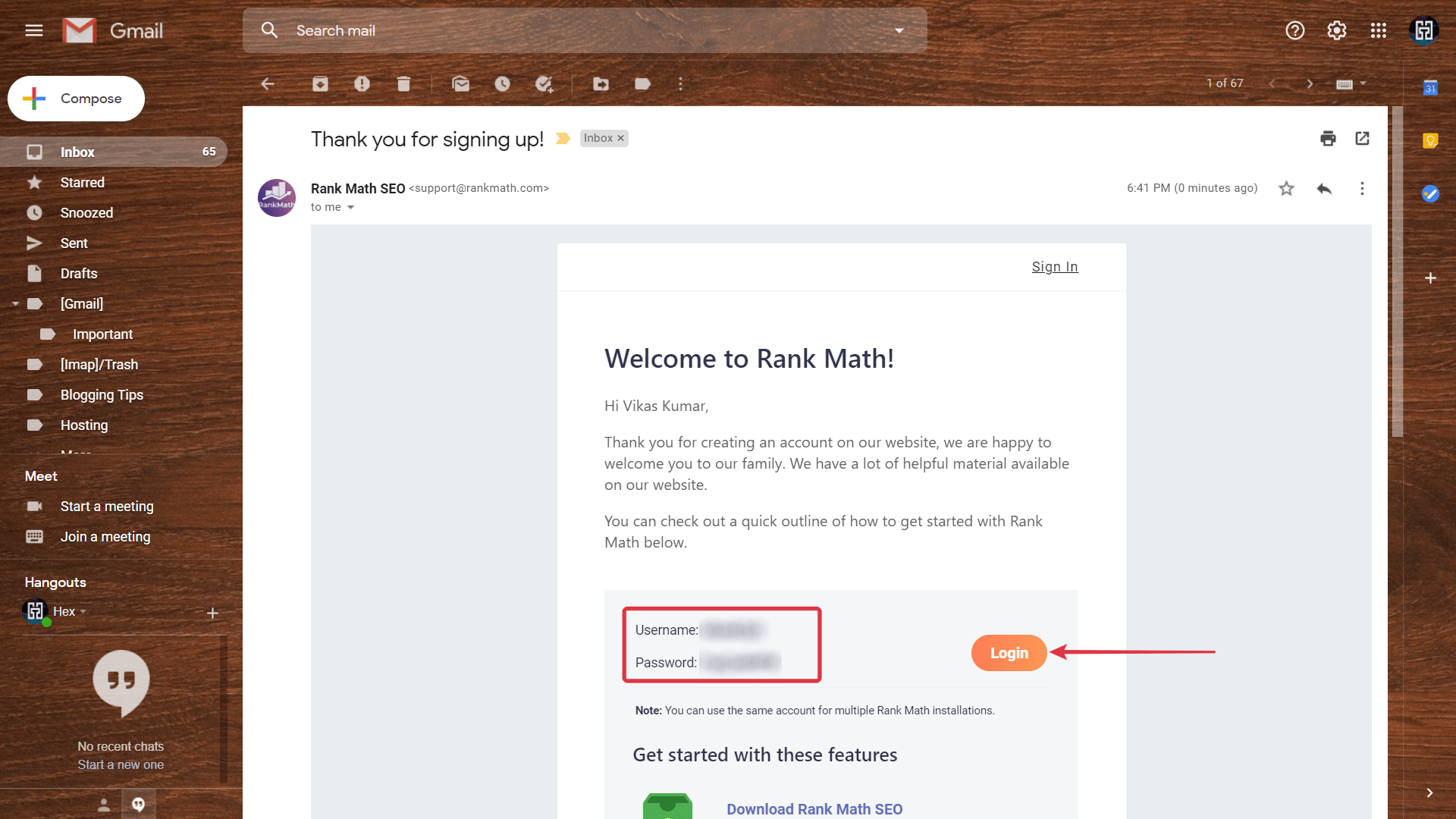 Install and Activate the Rank Math SEO Plugin
Go to WordPress Dashboard > Plugins > Add New > Search For "Rank Math"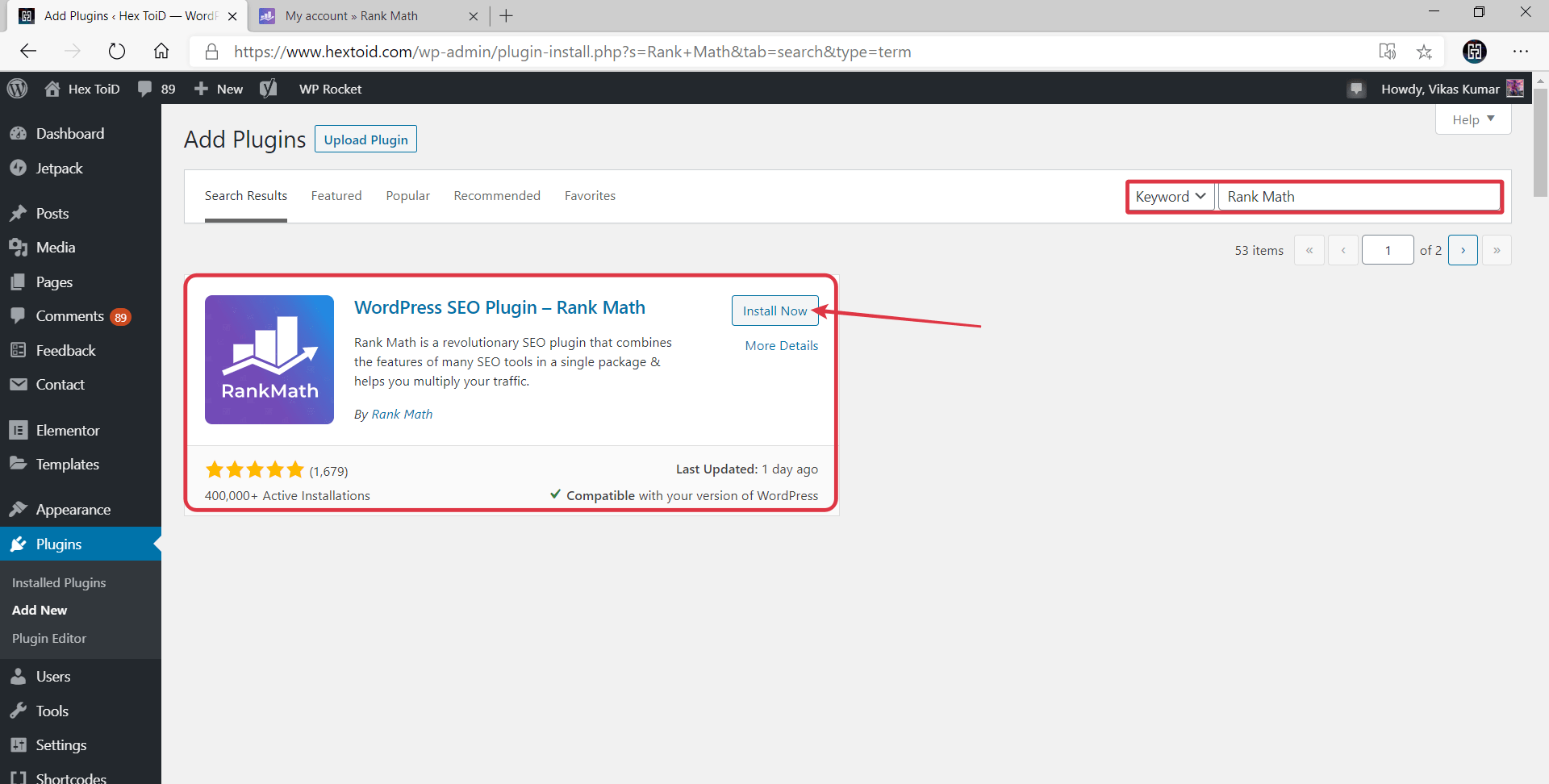 Connect Rank Math Account With Plugin
After activating the plugin a new window will open that will ask you to connect plugin with your Rank Math account.
Click Ok to confirm the connection
Select Advanced > Start Wizard
Import SEO Settings From Yoast To Rank Math
Here the import will begin from Yoast SEO
I will be importing the data of Yoast SEO as well as Redirections plugin
Select all the options > Click Start Import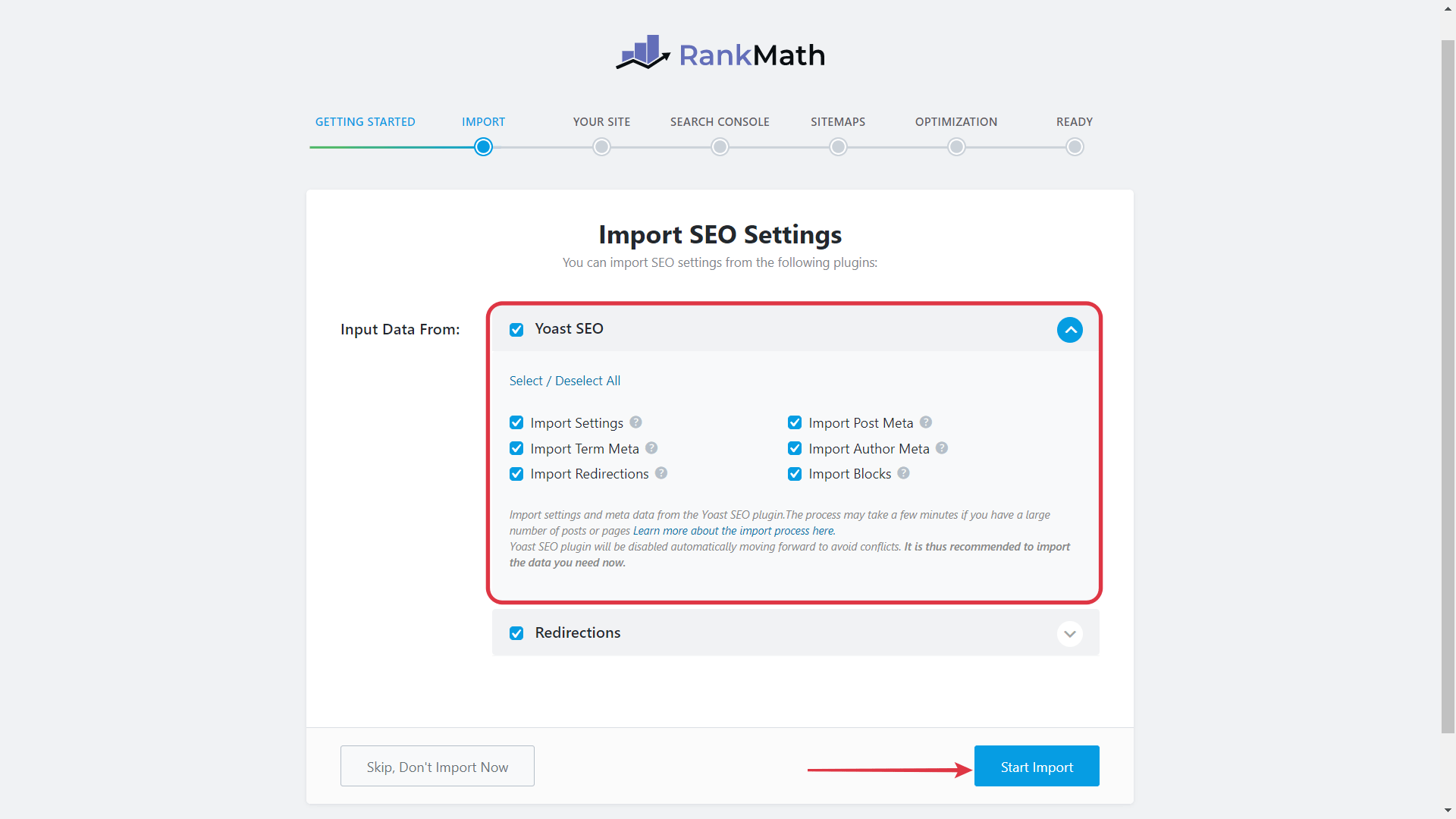 Files and Setting are importing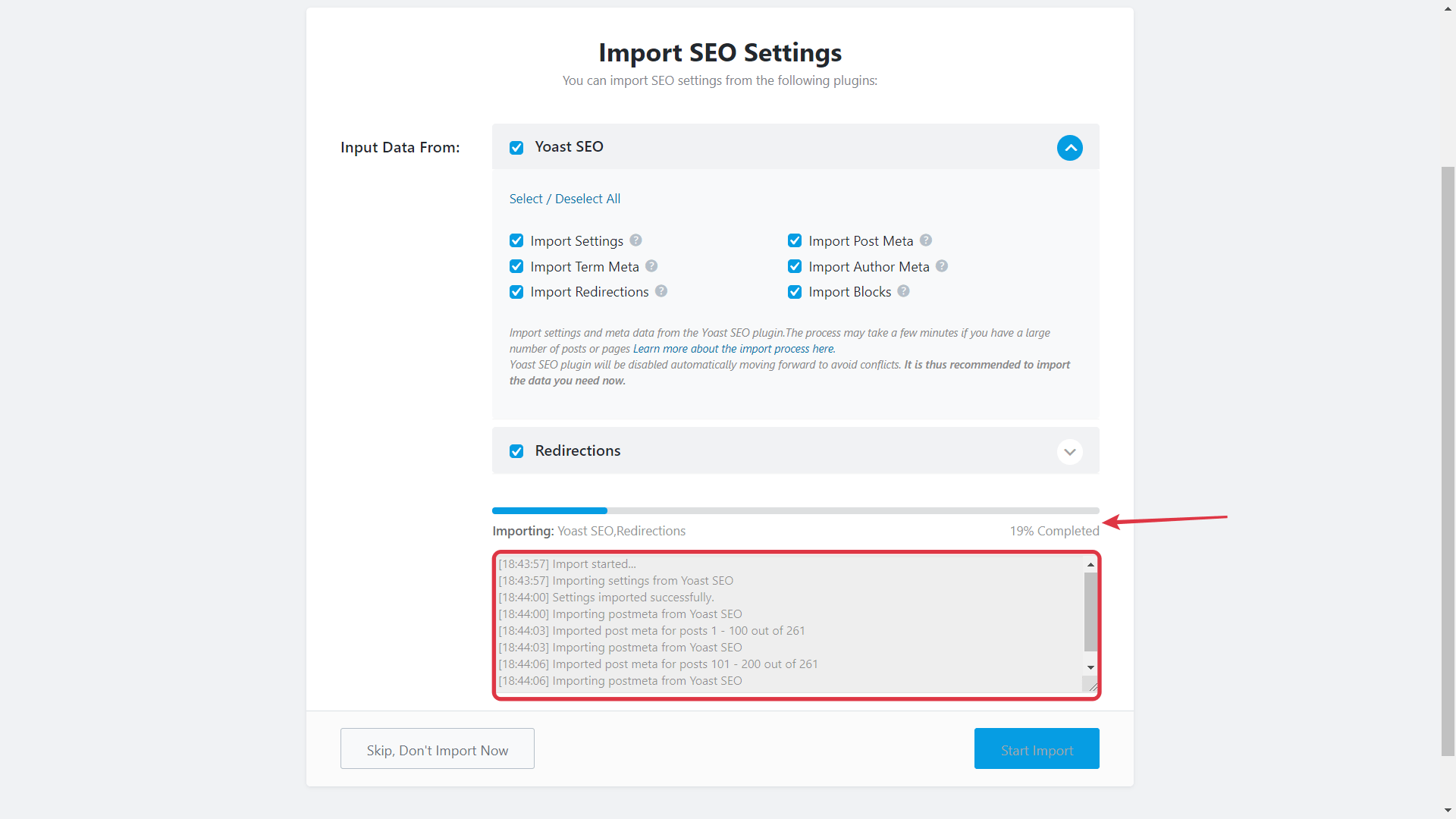 All files and settings imported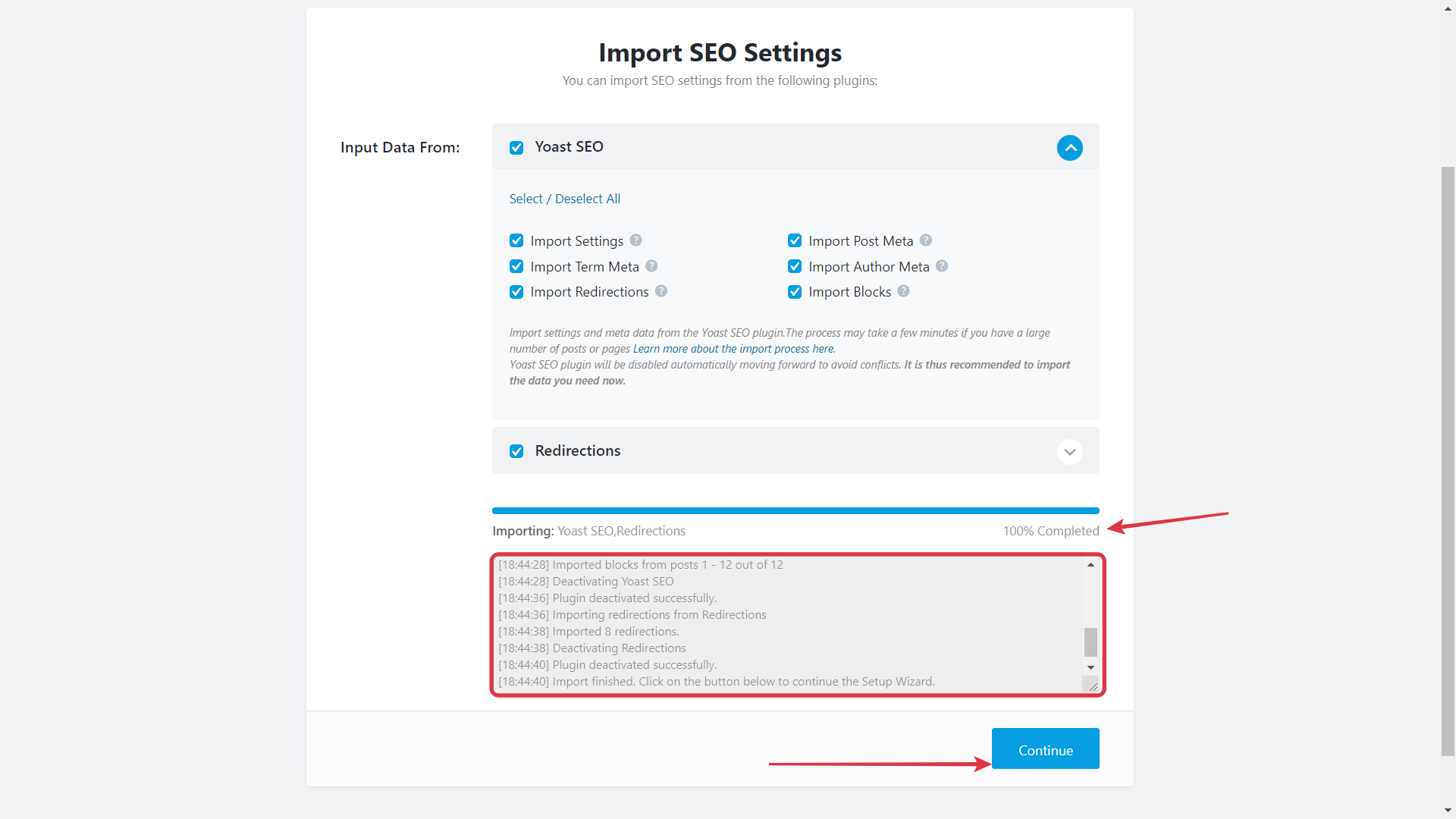 Do Basic Settings
Choose Category > Upload Profile Photo > Cover Photo > Click Save and Continue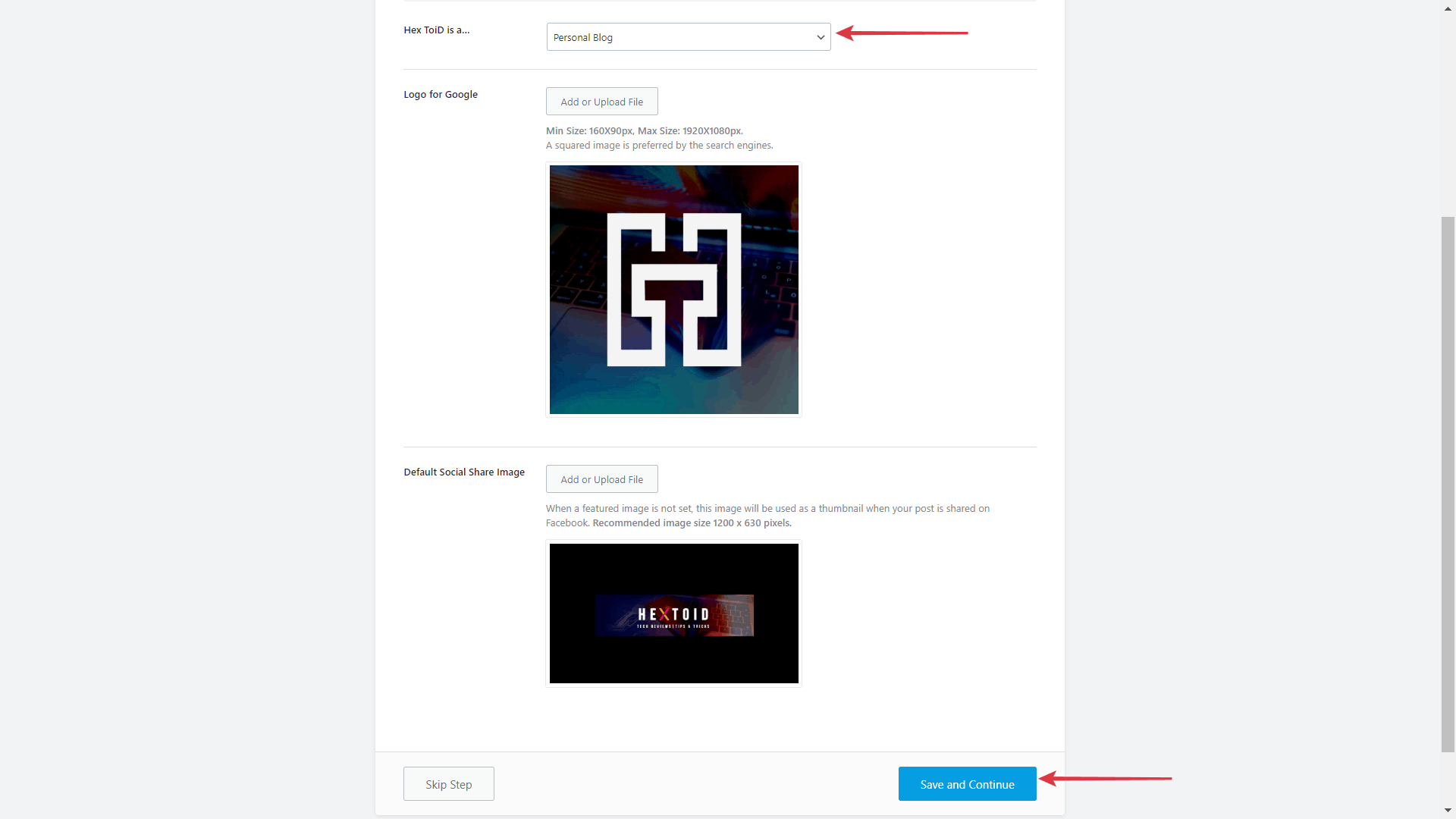 Here it will ask you to connect your site's Google Search Console account, I don't prefer to allow any third party site to access my search console so here I'm just skipping this process.
It is used to show your search console data in the WordPress Dashboard itself without going to search console.
If you want to set it up click "Get Authorization Code" and paste the code available in the appeared box
Otherwise just click "Save and Continue"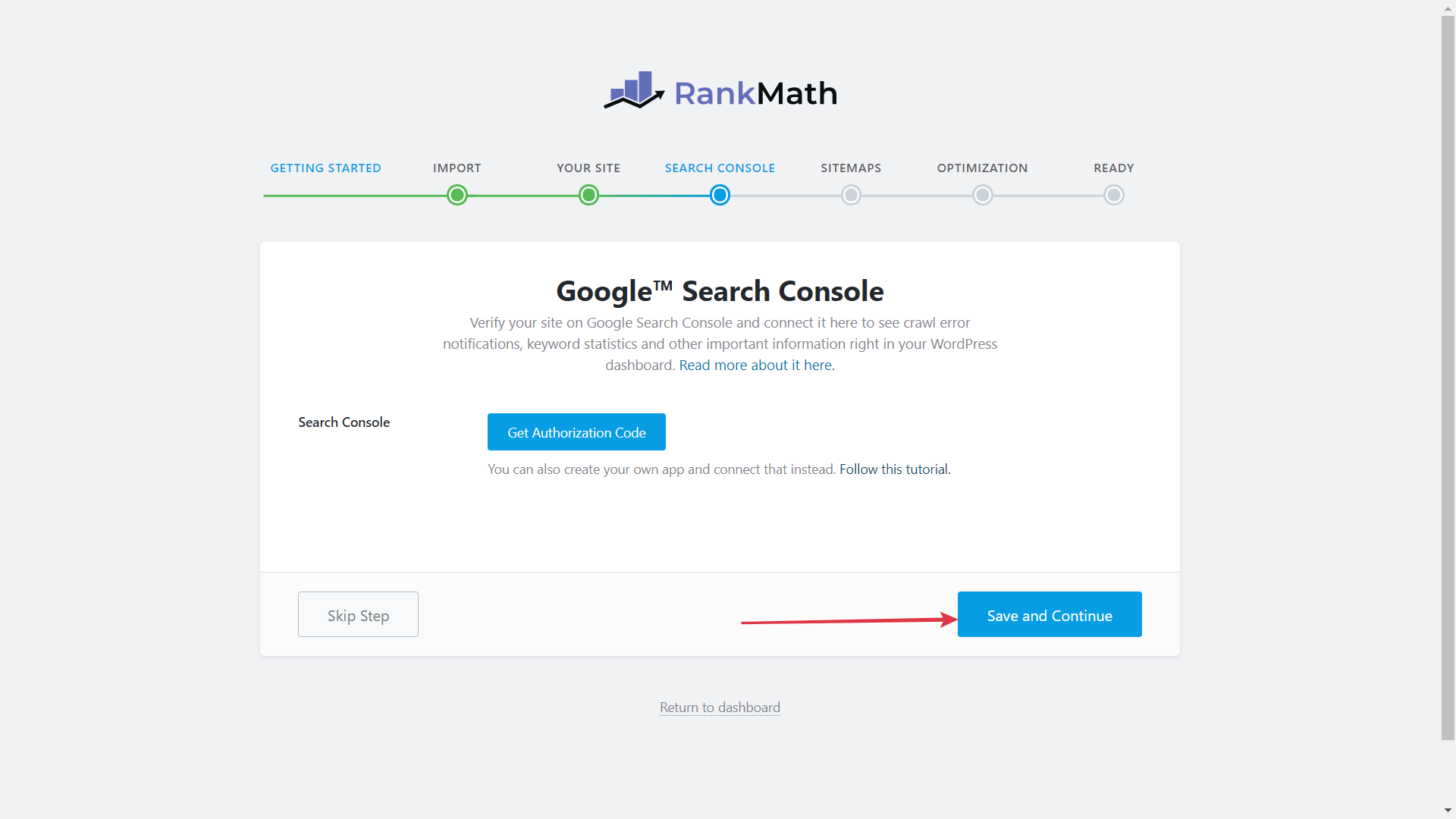 Set Up Sitemap & Optimization
In the Sitemap section
Enable Sitemaps > Include Images > Select Post and Pages > Untick Categories > Save and Continue
Sitemap makes crawels and bots to easily discover the posts and pages available on your site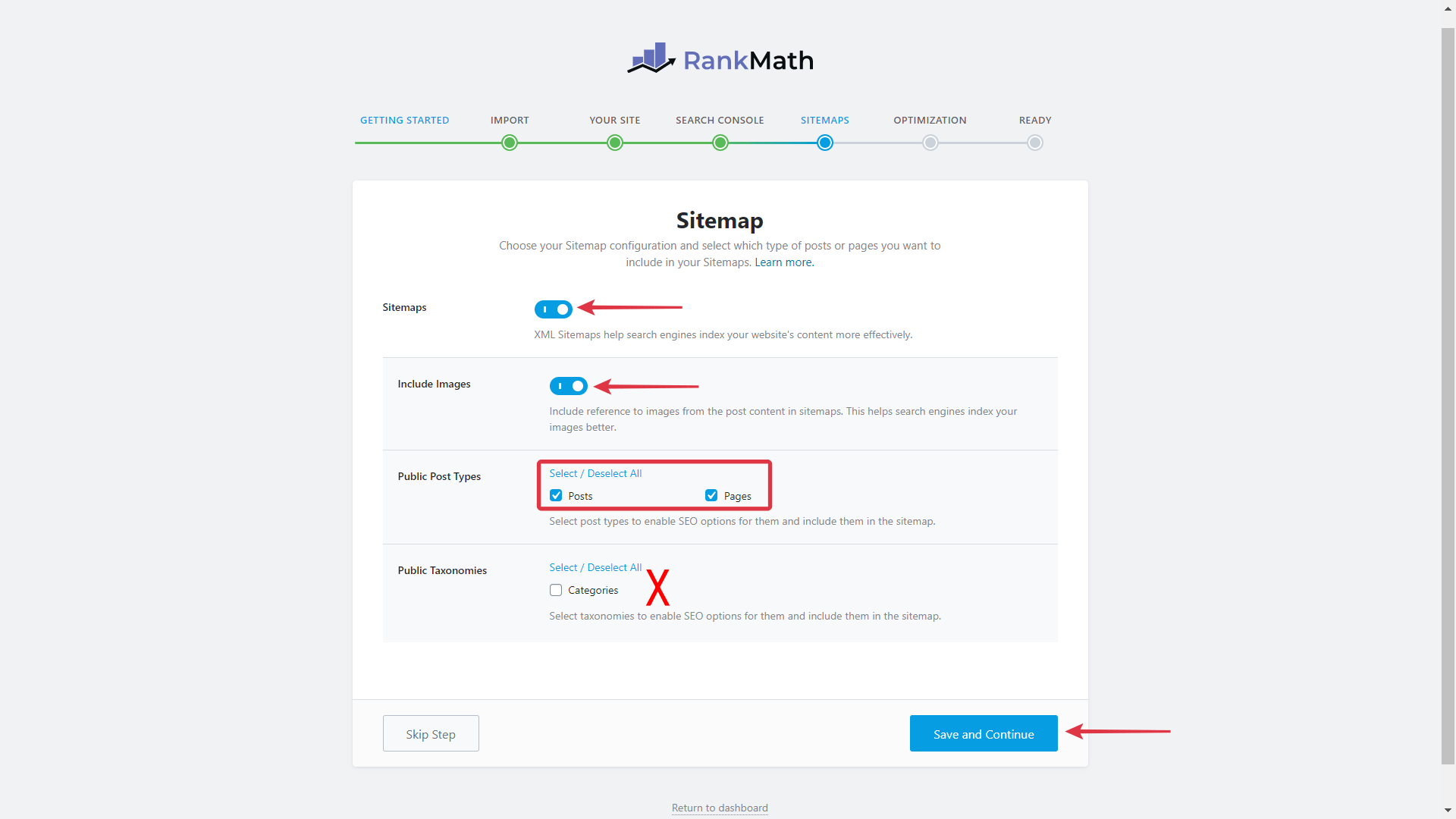 Enable Noindex Empty Category and Tag Archives
Disable Nofollow External Links
Enable Open External Links In New Tab/Window
Enable 404 + Redirection & Schema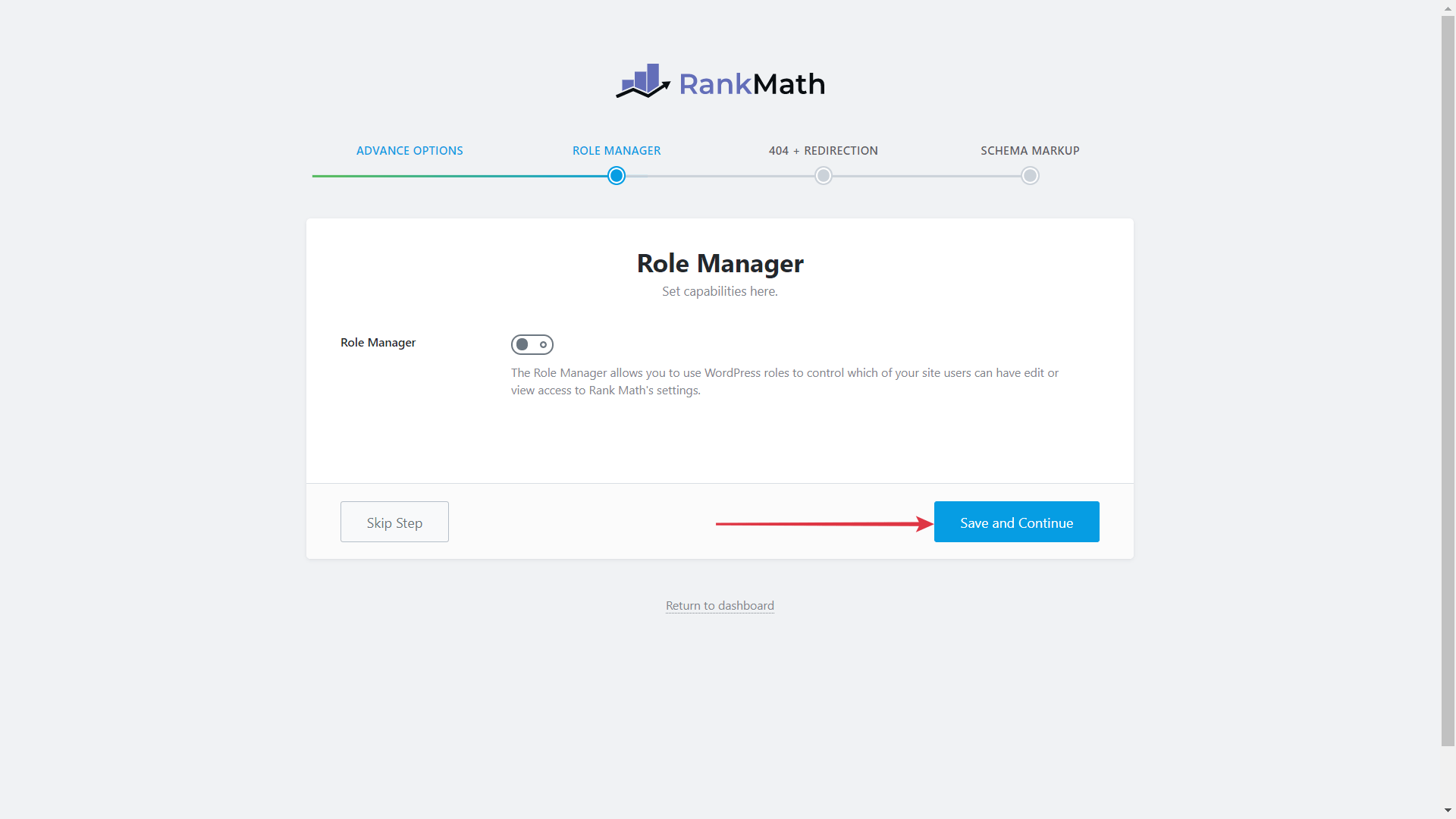 Enable 404 Monitor and Redirections > Save and Continue
This setting will let you know about the broken links available on your site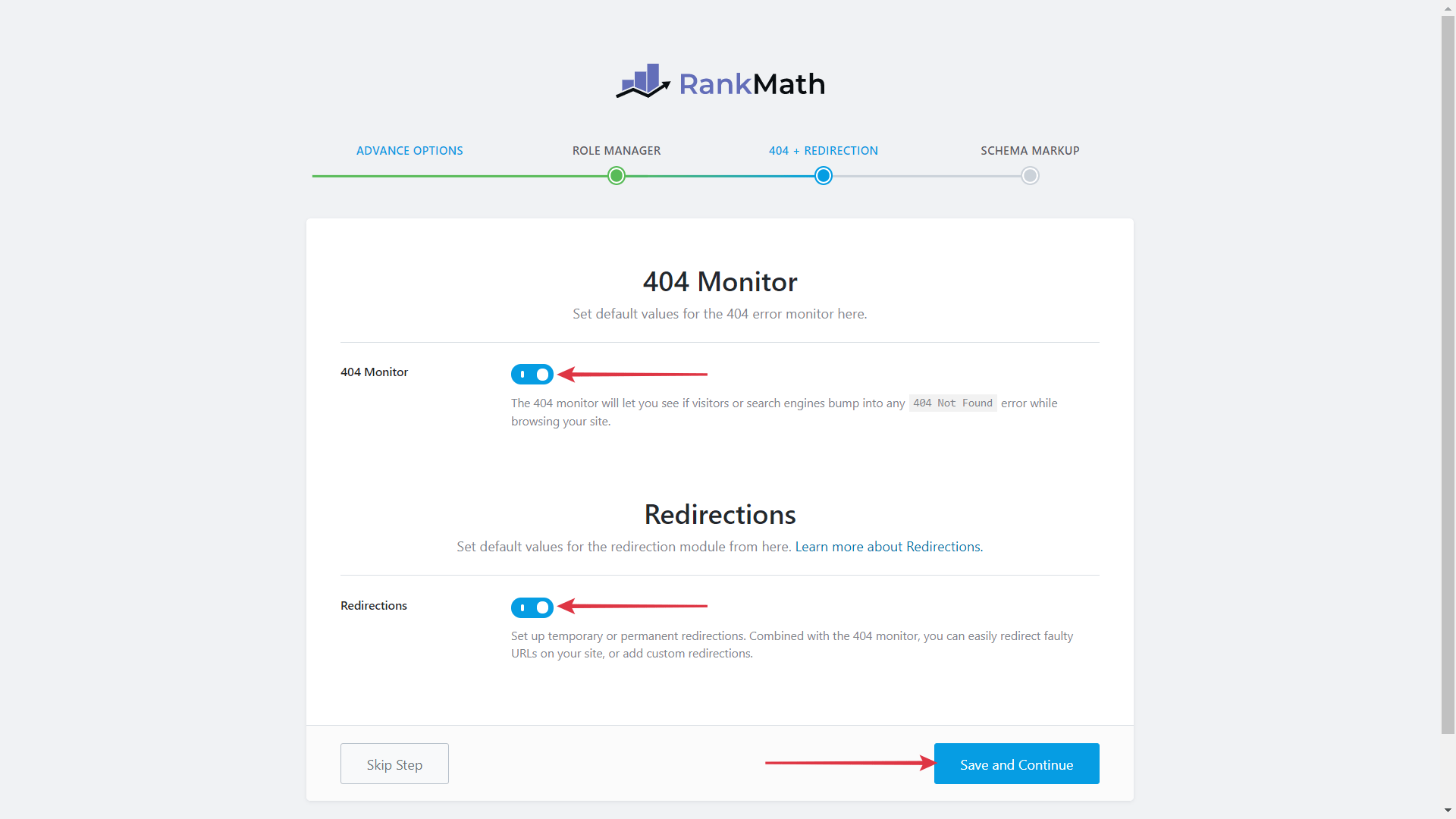 Enable Schema Type
Choose Schema Type for Posts
Select Article Type
Choose Schema Type for Pages
Select Article Type For Pages
Save and Continue
That's all about migrating from Yoast SEO to Rank Math.
FAQ
What is Rank Math?
Rank Math is a WordPress SEO plugin which makes it easier for publisher to optimize their content in the best by following the best practices suggested by it.
Is Rank Math Free?
Yes, it is free, but a premium version of it is also available with more additional features.
Is Rank Math Safe?
Yes, Rank Math is 100% safe, and currently it has over 500K+ active installations.
Wrap Up
I hope this article would be useful for you to migrate from Yoast SEO to Rank Math, if it helped you in any way then don't forget to share it with your friends on social media.