How To Start A Blog For Profit In 2021 [Step By Step Guide]
So you are determined to Start A Blog For Profit In 2020.
Yeah!
Tip: If you want to see your blog successful don't be lazy.
We think of starting a blog, but due to several obstacles in day to day life and the lack of incomplete information, you drop the idea of launching a blog.
You see,
I'm in 12th class, and I'm living my life what I used to dream of a few years ago, and it all happened only because of blogging.
Many like me are performing far better than me, and they are prevalent in their field.
Before I start describing, I would like to mention that It is not a quick scheme and you have to spend a lot of effort, time, and money, after all, you are setting your own business, and like every business it also takes time.
Let's Dive into it
Why Start A Blog?
Yes, it is a common question that I used to get almost every day.
There is much reason why one should start blogging, and some of them are mentioned below.
Popularity: Once you are famous,

you will have your unique image in society to build your brand.

Boss Free Life: There is no pressure of workload and tension of going late in the office.
No time boundaries: Just like 9-5 jobs,

there are no time boundaries; if you are a Blogger, work when you like to.

Networking: It is the best way to get in touch with the person who is already doing great in that field, and it would be useful for both the person to share each other's knowledge

Share Your Knowledge: By writing a blog post, you share the knowledge you have gained through your experiences like I'm doing.

Free Tools & Gadgets For Review: If your blog is a bit popular and some of the articles are ranked, then there is a chance that brands may approach you to promote their products by requesting you a review article on your site. They may pay you as well, along with the review unit, just for a single article.

Passive Income: A Blog offers multiple sources of income such as
Link Selling
Running Ads
Selling Products
Placing Banners
Affiliate Marketing
Allowing Guest Post
Many people ping me on social media Vikas the competition is very high in Blogging. I will not survive here.
But,
I don't think it is not the right time to start your money-making blog, and it is never too late.
Don't you think will there be no new blog will get built on that niche, and if somebody is building, will they not be able to make money & drive traffic.
If your answer is Yes, then why can't you. After all, I'm here to guide you with that.
You can discover hundreds of reasons that will motivate you to start blogging.
Why Do People fail In Blogging?
Everything has a good and bad side; the same thing applies to Blogging also. There are a few reasons that will not allow you to start a blog.
Success Guarantee (50-50): In short and simple, if you continue this industry for at least 1-1.5year, you can have a success rate like Mitrable.
Newbies Fail To Continue: Every newbie has a mentality that if I'm starting a blog today, I must get paid by next month, and that is why they fail to continue.
Future Is Bright But Boring Task: The future of Blogging is bright like the sun, but the task is very annoying.
Sacrifice Everything: If you are serious about it, you have to put all your enjoyment aside, but it is all up to you.
Laziness: Blogging is not for a person who tries to being lazy and escape from hard work and keep on searching the effortless ways, and when a person starts blogging, you have to sit for hours in front of the computer continuously.
Start One Blog At A Time: Yes, if you want to start your first blog, then work on only one blog even if you have extra time at least for six months. In the free time, read articles, and watch videos related to the niche you are working.
Requires Investment: Like the business in blogging, you have to invest money in buying essential things such as Domain, Hosting, Plugins (Tools), etc.
Now you would have a clear mindset of why one should start a blog and why people fail to continue.
How To Start a Blog? (Step By Step)
Here we will be going through each step, which is essential to create a blog. I have personally followed these steps to start this blog.
Let us look at each step one by one, and I'm sure today you will launch your first successful blog.
Step1: How To Choose A Profitable Blog Niche
The first step of niche selection is to identify your blogging interest, and this is the most challenging task where most newbies are stuck, and some are confused between Niche & Micro Niche Meaning?
The selection of the wrong niche is the reason for the failure of any blog, and that's why most newbie bloggers quit in just 6months.
Once you identified the niche in which you have an interest, and you will bang that niche.
Here is an example that will help you to understand why one should choose a niche in which you have an interest, not in which there is more money.
Google is the leading search engine of this time, and google understands users' intent, who are looking for the best results, and according to the behavior of users, google decides the ranking in SERP.
EX: If you have chosen the health niche, but you have only limited health knowledge, I'm sure you won't be able to deliver better content.
Whereas if a person who is a professional doctor or the one who has studied about it can write a more brief content that will be loved by both the reader and search engine.
Step by Step Guide To Discover Hot Niches
Write 50 topics in Notepad in which you have expertise.
From 50, filter out 10 topics.
Now from those 10, choose 2-3 in which you have a deep interest.
From these 2-3, choose 1, which only you can describe in a better way.
Ask yourself these questions:
Can I write without becoming annoyed?
Is there any reader for my niche?
Will I be able to write without looking for benefits?
Will I explore new things about my niche?
Can I make money from this blog?
If all your answer is Yes, then this is the right niche for you to go.
For your ease, I have published 2 articles with the help of which you will have a massive idea to find hot niches.
Step 2: How To Select A Domain Name
A domain name is your website's name or address; for ex: google.com, hextoid.com, wikipedia.com, yahoo.com, amazon.com are known as domain names.
It is also believed that domain name is not a ranking factor for search engines, but it psychologically affects the success of any blog.
Once you have selected the niche, the very next step is to get a domain name. When I started blogging, I wasted 8+ TLD domains because of the wrong name and didn't sound right.
As you are my loyal reader and I don't want you to repeat the same mistake.
How To Choose a Good Domain Name?
Short & Simple: Always keep your domain name as straightforward as possible; don't extend more than 1-2 words.
Easy To Spell: Prefer catchy and easy to spell, and short names are always easy to spell and remember.
Use Keyword: You can also use your main keyword in the domain, which is useful in SEO.
Avoid Numbers & Symbols: I have noticed some of the domains containing numbers & domains, which is not easy to remember and especially symbols.
Only .com

: There are many TLD (Top Level Domain), but my recommendation is to use .com as it is used globally.
I'm assuming that you have got a clear Idea which type of domain you should prefer, now; let's check the availability of the domain.
But if you are still confused about name selection, you can also use the Domain Name Generator Tools such as LeanDomainSearch and Namechk.
There are many popular platforms from where you can purchase domains that are GoDaddy, Namecheap, etc.
But the pricing of these platforms is too high, and I prefer to purchase domain names from Ambition Host & Hostkarle because of the low price.
Step3: Choose A Best & Affordable Web Hosting
After selecting the domain, the time has come to get web hosting to make our website accessible globally.
So a question comes here,
What Is Web Hosting?
Web Hosting is an online server that acts as a Hard Disk in a Computer that helps you store all the text, images, and videos securely.
Why Is A Reliable Hosting Always Recommended?
The selection of low-quality hosting will always ruin all your effort to rank that blog. Because a single down-time in hosting will make all outrank all the ranked articles. I have faced these issues; that's why I recommend you always go with the reliable and reputed hosting only.
Here, a question arises: which hosting will fulfill all the requirements essential for a blog to run non-stop.
For your ease, here I'm mentioning some of the astonishing hosting providers whose services are awful.
Siteground
A2 Hosting
Bluehost
Kinsta
WPX Hosting
Namecheap
Services of these hostings are just outstanding, and there is no competition of it when it comes to speed comparison. Like their services, their prices are also at the peak, and a newbie can't afford such costly hosting.
But don't worry, I've got a deal for you from where you can buy a hosting as well as the domain at a fair price; those providers are:
These hostings are pretty good if you have less investment, but my recommendation is to go with A2 Hosting/Bluehost. Otherwise, start your with these hosting, and whenever your blog starts showing the result, shift to A2 Hosting/Bluehost ASAP.
As they are cheap, their hosting may not handle if the traffic is in a massive amount.
When you will visit any hosting website you will a variety of hosting such as
Shared Hosting
WordPress Hosting
VPS Hosting
Reseller Hosting
Dedicated Hosting

Cloud Hosting

WooCommerce Hosting
Here a confusion occurs, then which one you should prefer if you are starting, then continue with the shared hosting, and when your website starts performing well, upgrade according to the requirement.
Before purchasing any hosting, you must look at these 5 crucial points mentioned below.
Speed: The first thing you need to check in a web-hosting before purchasing its load speed (faster the speed, as quickly as the page is loading will reduce the bounce back).
SSD Storage: Hosting containing SSD storage is 10X faster than hosting with non-SSD, as it will open your webpage 10X more quickly than the sites with HDD storage.
Uptime: An OK hosting has 99.9% of uptime; it is the period how much time your website remains available on the web.
Customer Support: Customer support matters a lot, and that happens when you purchase reliable hosting, and you will never run out of any issue.
Security: The rate of hacking increases each day, and remaining safe from unethical people security is a must.
All the above-mentioned hosting providers are fulfilling these services.
Step 4: Activate Cloudflare Free SSL Certificate
Cloudflare offers both the free and paid service, and I use Cloudflare on all of my websites to activate a free SSL certificate.
Along with a free SSL certificate, it offers many extraordinary features free of cost that you can't find anywhere after paying even.
Log in / Sign up in Cloudflare > Click Add Site
Enter Domain & click Add site
Choose Free Plan $0 / month > Click Confirm Plan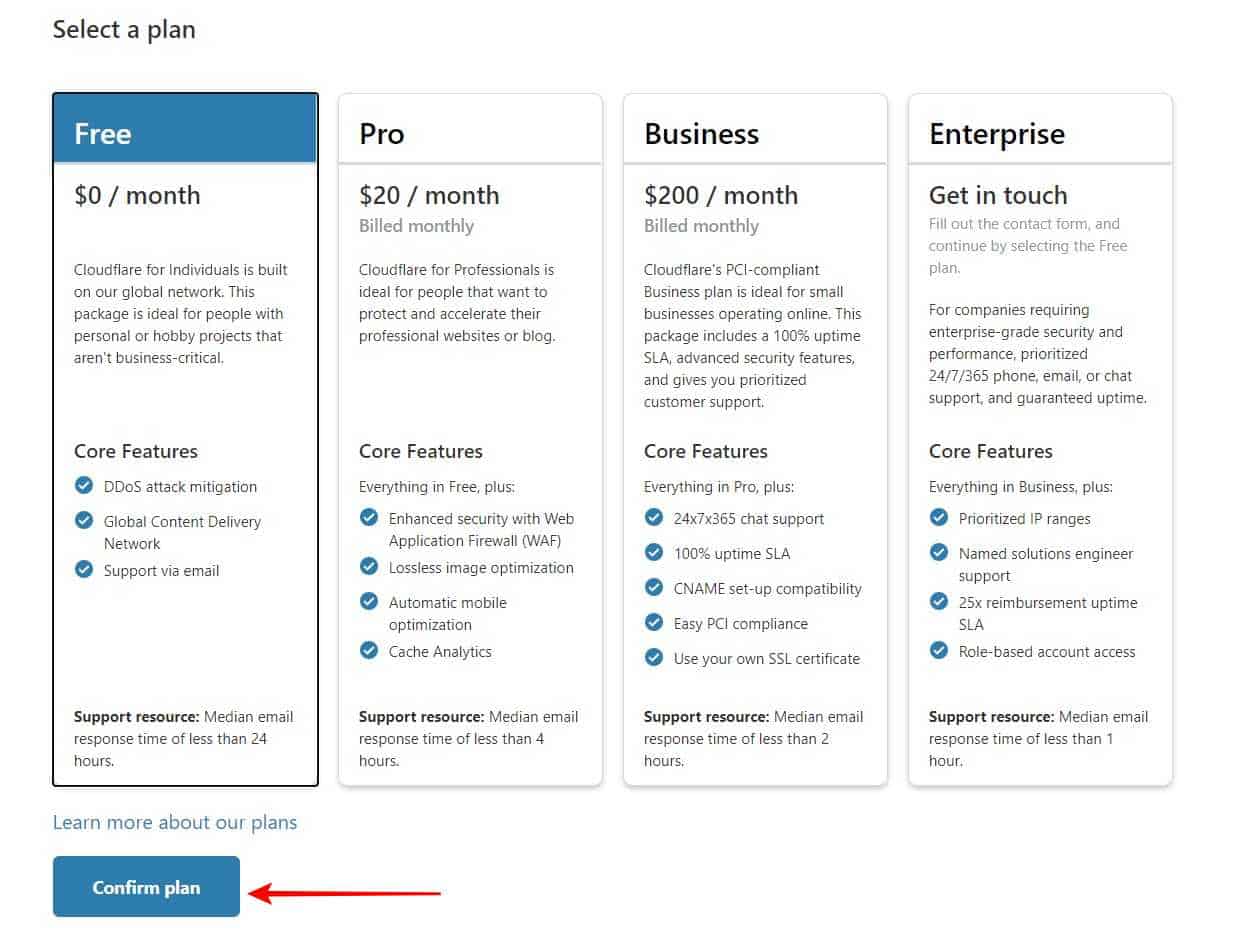 All the domain records will appear > Click Continue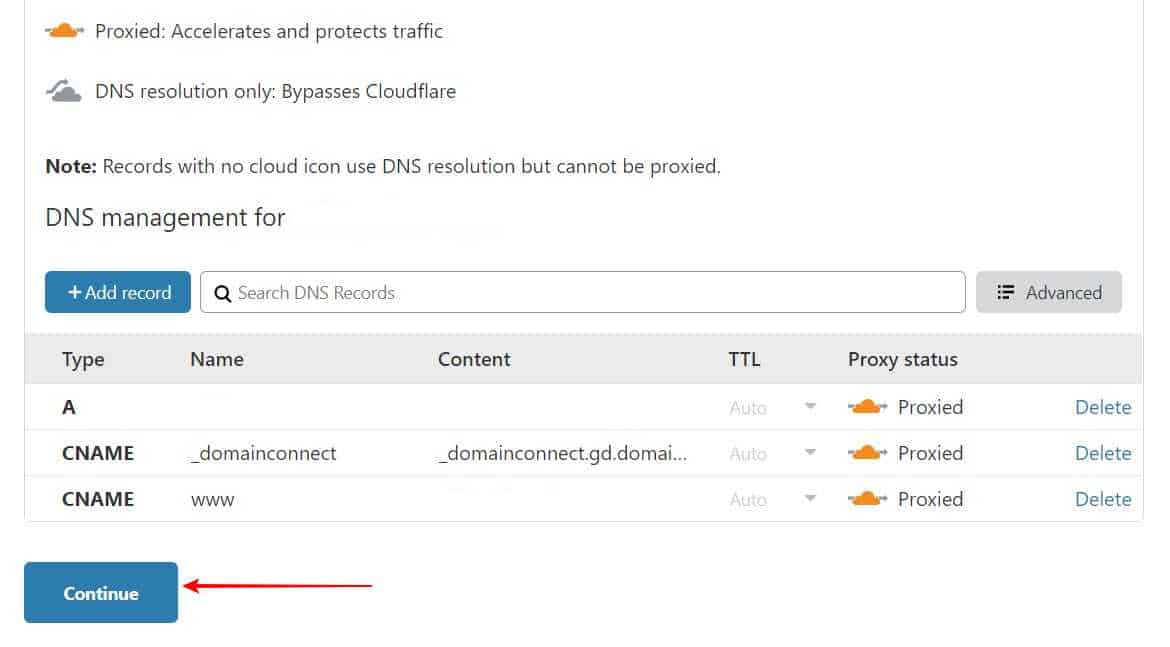 Here you will get two nameservers of Cloudflare to replace you on the domain registrar website.
Login to your domain registrar website > Click DNS
Scroll down and click on Change under Nameservers
Replace the primary nameservers with the nameservers provided by the Cloudflare
cleo.ns.cloudflare.com
hera.ns.cloudflare.com

This process may take time, so click on Recheck Now or Refresh the page
Most of the time, it just needs 5-10min to update, but sometimes it may take 24-48hr
When it is connected, it will show "Great news! Cloudflare is now protecting your site."
Choose website > Click on SSL/TLS > Overview > Tick mark in Full (Encrypts end-to-end, using a self-signed certificate on the server)
Near overview, click on Edge Certificates > Enable Always Use HTTPS > Enable Automatic HTTPS Rewrites.
Don't change the other default settings.
Go to Page Rules > Click Create Page Rule
In the first box type http://*.hextoid.com/*
Here you have to change this with your domain
From the drop-down menu, choose Always Use HTTPS > Save.
Enable it if this page rule is disabled
If you are entering this page rule, it will apply SSL to all your subdomains, posts, and pages.

Go to Speed > Navigate to Optimization Section.
In Auto, Minify enable the JavaScript, CSS, HTML
For more features of Cloudflare, you have to upgrade your plan.
Step 5: Connect Domain To Hosting
When You have got the domain and hosting now, it is time to connect to make it available on the web.
Another problem occurs if the hosting and domain are not available on the same site, then you have done an extra step to connect them, but if it is on the same platform, you can skip this step.
Here I will share both the methods one by one
Connect GoDaddy Domain With Namecheap Hosting
Login to your domain registrar website > Click DNS
Scroll down and click on Change under Nameservers
Enter the Nameservers provided by your hosting provider

Log in to cPanel > In domain section click Addon Domains
In New Domain Name type the Domain Name > Enter the domain name without extension > again enter the domain name with extension > Click Add Domain.
The very next moment domain will be added to your hosting.
Step 6: Setup WordPress Using cPanel
Log in to your cPanel > Search for WordPress > Click on WordPress
If WordPress is not available, then search for Softaculous and click either on WordPress or Softaculous Apps Installer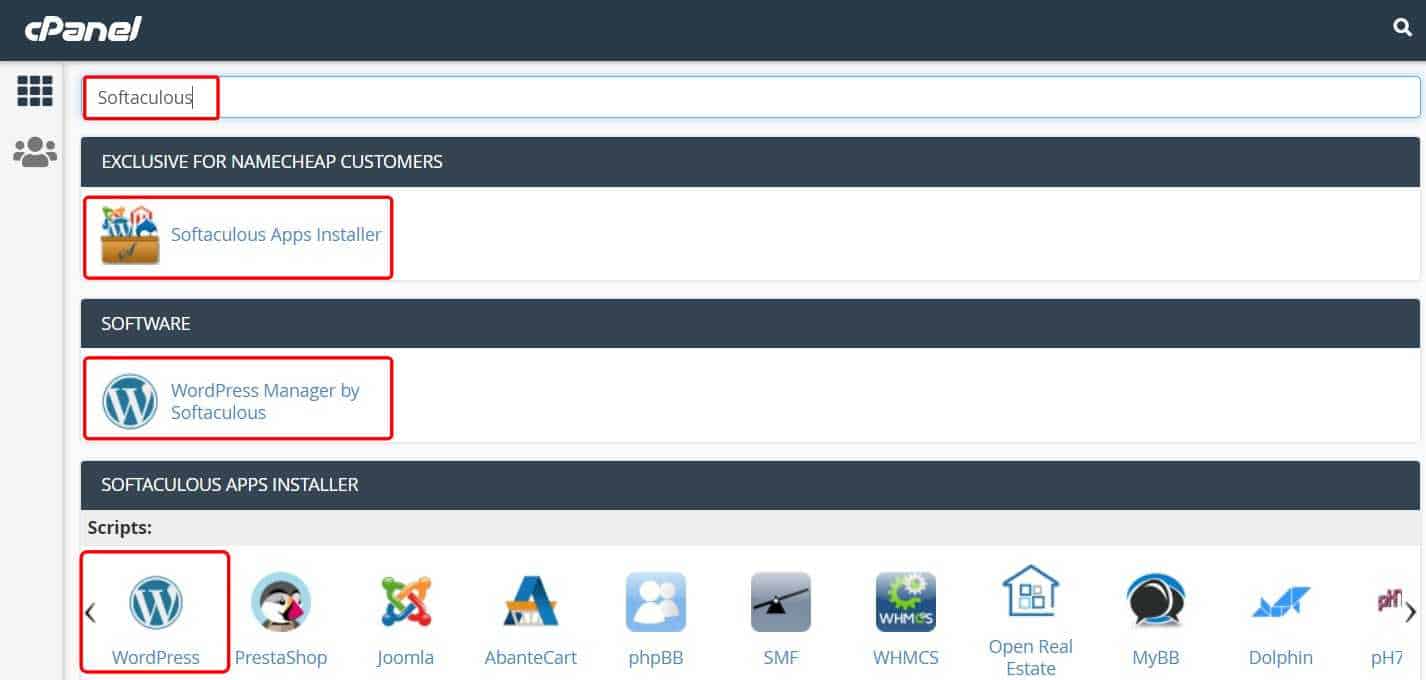 On the next screen click on WordPress
Choose the latest WordPress version > Always continue with the "https://" or "https://www." > Choose domain name > Leave In Directory empty
Enter site Name & description
Type the username & password that you will use to login > enter the accessible email ID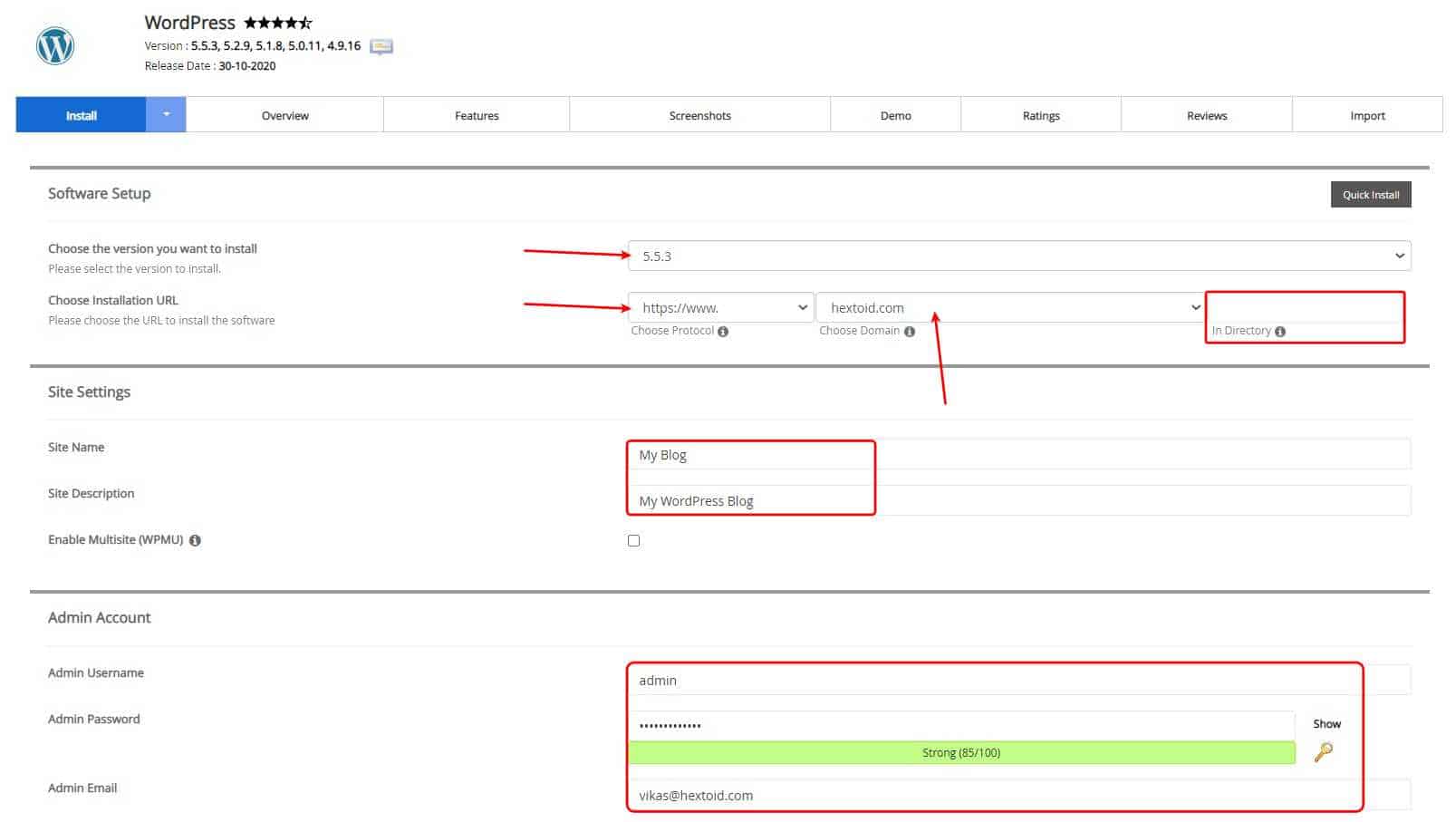 At the bottom of the page click Install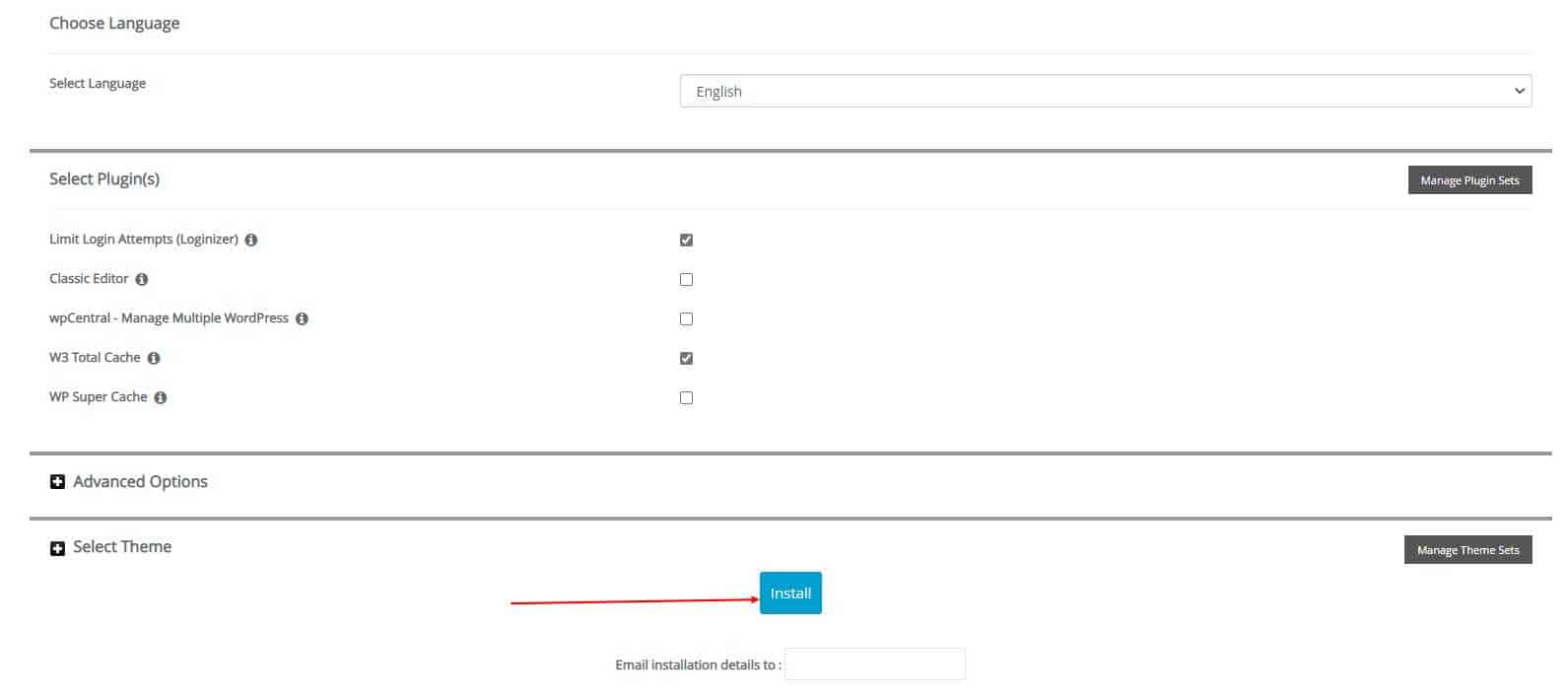 The next moment Installation begins

After completing the installation process, you will get your Administrative Log In URL
Keep that URL safe and don't share with anyone

Congrats! Your blog is live now.
Login To WordPress Dashboard
The default login URL to the admin panel of the most website is https://www.website.com/wp-admin/index.php. Along with it, there are a few more URLs using which you can log in, such as
https://www.website.com/admin/
https://www.website.com/login/
https://www.website.com/wp-login.php
https://www.website.com/wp-admin/
https://www.website.com/wp/admin (Not for all sites)
Enter the Email/Username & Password that you used while installing WordPress > Log In.
Step 7: WordPress Important Settings After Installation
When you install WordPress for the first default, WordPress settings get applied, which is not suitable for SEO.
Here in this section, we will learn what the best WordPress settings you must do are.
Go to Posts > Categories and change the Uncategorized Name and Slug to a primary category
Settings > General > Fill All the essential details > Select your Timezone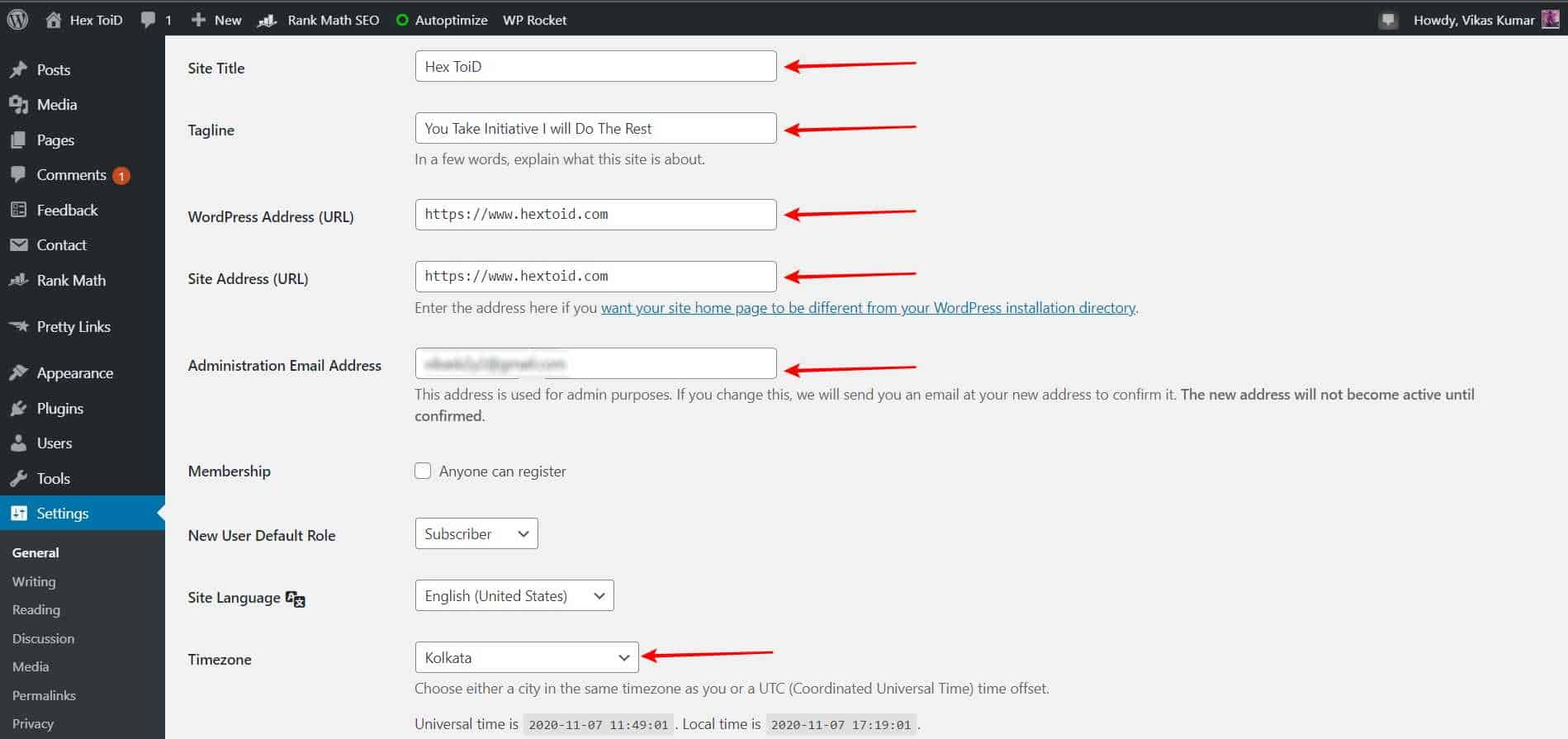 Navigate to Settings > Reading > and make sure "Search engine visibility" is Disabled
Go to Permalinks Settings and choose Post Name option
Step 8: Choose An Attractive Theme
The theme is the beauty of any blog. The attention-grabbing theme is essential in this competitive world, and the good thing about using WordPress has thousands of fully customizable themes available in its directory.
Some of the popular WordPress themes are
Generate Press [Free + Premium]
Astra [Free + Premium]
Genesis [Premium]
Newspaper [Premium]
Kadence [Free + Premium]
OceanWP [Free + Premium]
All these themes are super amazing and are better known for fast loading; for more Astonishing Themes, visit ThemeForest.
After the installation of the theme, you have to customize the theme and design like a pro by using some essential page builders such as
Elementor [Free + Premium]
Thrive Architect [Premium]
Step 9: Install Important Plugins
Plugin in WordPress is just like installing an application from Google Play Store, or you can also say installing browser extensions.
It enhances the functionalities of WordPress by providing useful facilities.
Useful plugins that you must get are
Autoptimize
Contact Form 7
Easy Table of Contents
Elementor
Insert Headers and Footers
Jetpack
Pretty Links
Rank Math SEO/Yoast SEO
reSmush.it
Shortcodes Ultimate
Wordfence Security
WP Rocket (or Any cache plugin)
These plugins can't be useful for everyone, so you can eliminate according to your website and need.
Here is a pro tip for you: Use minimal plugins to improve your site's speed.
Step 10: Start Writing Your Blog Posts
The stunning blog posts are the only reason behind a successful blog; creating blog posts, navigate to Dashboard > Posts > Add New.
A new window with an editor will open where you can type a catchy heading > article with media > category > tags > permalink > featured image.
Useful Tip: Always write detailed articles, and focus on long tails keywords as they are easy to rank detailed articles brings more links and shares.
Detailed articles take time as this article How to start a blog brought me a week to finish, and that's why it is so useful.
Publish at least 20-25 quality detailed articles of min 2K-3K+ words.
Once you have launched your first blog post, now it is time to grab all the social media by practicing, you can Become A Good Writer.
Step 11: Grab All Social Handles
Social media is the most powerful thing you can use to convert a website into a brand. That's why it is always recommended to occupy all the available social sites for the list of social media you can visit Namechk.
As you can check Hex ToiD is available on all the major social media.
So just after launching your blog grab, all the possible social media handles for that domain name.
Step 12: Add Your Site To Different Webmaster Tools, Google Analytics & Setup Robots.txt
It would be beneficial to add your site in webmaster tools after publishing at least 4-5 posts, as it will build a kind of trust to search engines about your site.
Your blog posts appear in the search result when you submit them in the webmaster tools, and there are different webmaster tools for various search engines, and it is popular depending on their region.
Read this awesome guide by Exclusive List of Websites & Directories To Submit Your Blog Shout Me Loud
Google Search Console
Yandex
Baidu
Add Robots.txt
Connect In Google Analytics
Step 13: Promote Blog Posts / Build Backlinks Using Free Resources
When you feel like your blog is ready to compete with other blog posts available on the internet, then it is time to promote it by using free resources.
To build authority, you will need quality backlinks; either you can make yourself or ask someone to link with your published articles.
Once you start getting quality links, search engines will start giving priority to your posts, and there is a chance that they may rank higher in SERP.
For Promotion & Link Building take the help of
Quora
Social media
Web 2.0
Make videos
Build Email List
But before making backlinks read this guide: 7 Link Building Mistakes to Avoid While Building Backlinks (Shout Me Loud)
Step 14: Various Methods To Make Money Online
When your blog starts getting visible in search results and gaining some amount of traffic, it is time to generate some revenue through it.
Various ways are available using which you generate revenue after starting a blog. Some of the most popular ways are:
Link selling
Ad Networks
Sponsorships

Sell own products

Affiliate Marketing

Banner placements

Guest posts offering
People Also Ask
How much does it cost to start a blog?
If you are spending min only on domain & hosting, then the amount you have to pay is $2-$3/month. But it varies depending upon the platform you are purchasing these assets.
How do I start a blog with no money?
If you have no investment, I would suggest you start blogging with Blogspot. It is a free CMS platform by google to create a website at zero cost.
How To Start A Blog That Makes Money?
Once you have a successful blog, you have various ways of making money; some popular ways are Advertising and Affiliate Marketing.
Should I start a blog in 2020?
Yes, it is not too late to start a blog in 2020, and I would say it will never be too late to start a blog; each day, thousands of websites get live, and it will continue in the future.
What is the minimum time a blog needs to start making money?
From my personal experience, if you are working on a single blog with full determination, the maximum time required is 3-6 months. Still, if your niche is highly competitive, it will need 1-1.5year, but it all depends on how you are working.
Wrap Up
Congratulation! In 2020 you have successfully launched your money-making blog.
But a question arises, Is it enough for a successful blog?
Yes, but not 100%; to create a successful money-making blog, you have to make lots of effort and require a good knowledge of SEO, Link Building, Writing Blog Posts, Affiliate Marketing, and many more.
Because to earn first of all you have to learn.
The world is changing, and walking with the world, you have to be updated with every new update in the internet world.
I hope this article would be useful for you; if you find it helpful to start a blog in 2020, don't forget to share with all your friends who want such a detailed guide to create a money making blog without coding knowledge.
If you have any queries feel free to drop it down in the comments, it would be a lovely opportunity to help you with that.
Happy Blogging