Disclosure: Some of the links to products in this article are affiliate links. It simply means, at no additional cost to you, we'll earn a commission if you click through and buy any product.
How To Start A Blog For Profit In 2023: This article will guide you with step-by-step process to launch your WordPress website in the easiest ways. This is a beginner-friendly guide and after reading this you will be able to start a blog on WordPress without any hustle.
On social media, people ask me, "Vikas, the competition is very high in blogging. I will can't survive here." But, I don't think it is not the right time to start a money-making blog, and it is never too late.
Don't you think will there be no new blog will get built on that niche, and if somebody is building, will they not be able to make money & drive traffic?
If your answer is yes, then why can't you. You can discover hundreds of low competitive niche ideas that can make you successful in blogging.
How To Start a Blog?
Step 1: Choose A Profitable Low Competitive Niche
The first step of niche selection is to identify your interest, and this is the most challenging task where most newbies stuck. The selection of the wrong niche is the reason for the failure of a blog, and that's why most newbie bloggers quit in just 2-3 months.
Here is an example that will help you to understand why one should choose a niche in which you have an interest, not in which there is more money.
EX: You have chosen a health niche, but have only limited knowledge, I'm sure you won't be able to deliver better content. Whereas if a person who is a professional doctor or the one who has studied about it can write more brief content that will be loved by both the reader and search engine.
Step 2: Select A Catchy Domain Name
Once you have selected the niche, the very next step is to get a domain name. A domain name is your website's name or address; for ex: google.com, hextoid.com, wikipedia.com, yahoo.com, amazon.com are domain names.
How To Choose a Good Domain Name?
There is no any fixed method to choose a good domain name, but a good domain name is:
Short & Simple
Easy To Spell
Include Keywords

Avoid Numbers & Symbols

Only .com
If you are still confused about name selection, you can also use the Domain Name Generator Tools. There are some popular platforms from where you can purchase domains that are GoDaddy, Namecheap.
Step 3: Choose A Reliable Web Hosting
The selection of low-quality hosting will ruin all your effort. I have faced these issues, that's why I recommend you always go with a reliable hosting provider. Here, a question arises: which hosting will fulfill all the requirements essential for a blog. Some of the best hosting providers that I know are:
These hosting providers are pretty good if you have less investment hen go with Namecheap. There are various types of hosting, but in initial days I recommend you to go with Shared Hosting. When your website starts performing well, upgrade according to the requirement.
Before purchasing any hosting, you must look at these 5 important points:
Speed
Uptime
Security
SSD Storage
Customer Support
Step 4: Activate Cloudflare Free SSL Certificate
Cloudflare is a website security company that provides content delivery network and DDoS mitigation services. I use Cloudflare on all of my websites to activate a free SSL certificate. Along with a free SSL certificate, it offers many features for free.
Log in/Sign up in Cloudflare > Click Add Site
Enter Domain & click Add site
Choose Free Plan $0/month > Click Confirm Plan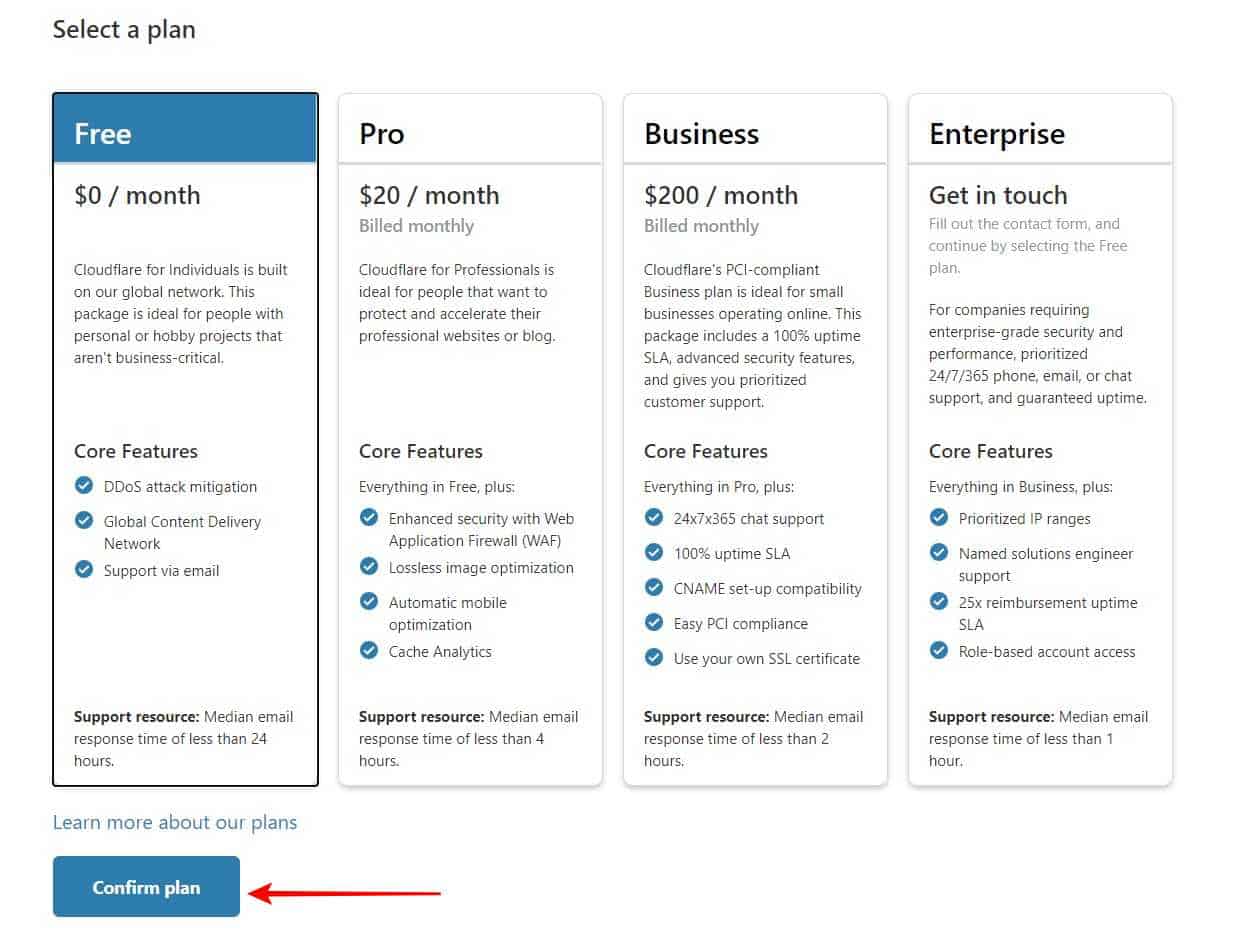 All the domain records will appear > Click Continue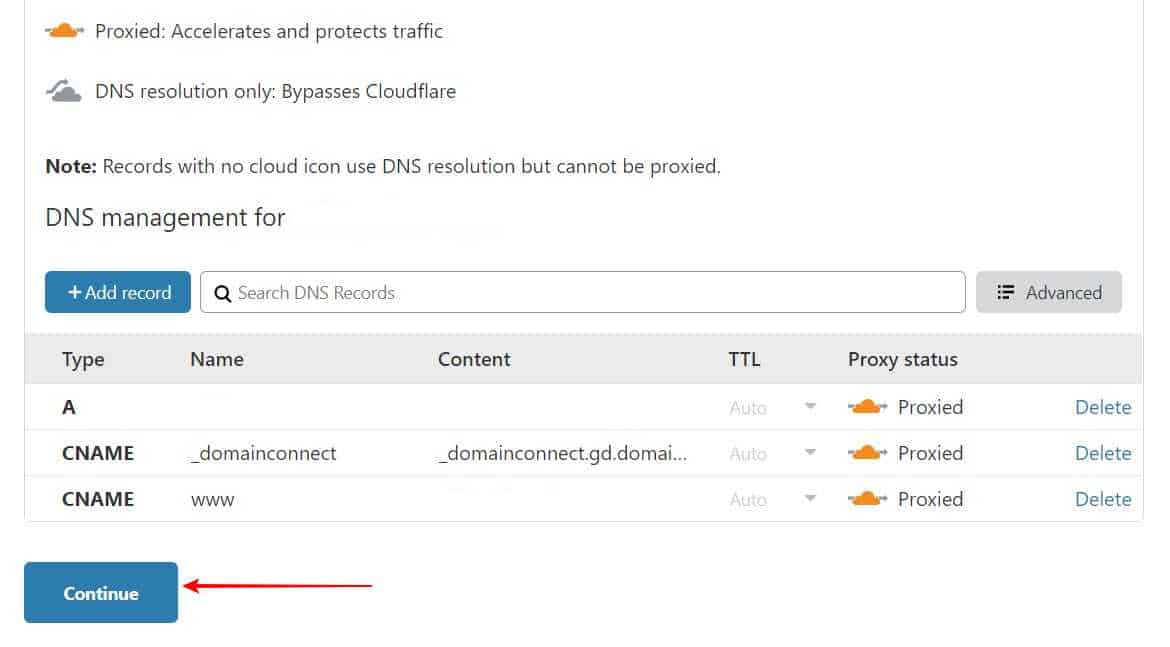 Here you will get two nameservers of Cloudflare to replace you on the domain registrar website.
Login to your domain registrar website > Click DNS
Scroll down and click on Change under Nameservers
Replace the primary nameservers with the nameservers provided by the Cloudflare

This process may take time, so click on Recheck Now or Refresh the page
Most of the time, it just needs 5-10min to update, but sometimes it may take 24-48hr
When it is connected, it will show "Great news! Cloudflare is now protecting your site."
Choose website > Click on SSL/TLS > Overview > Tick mark in Full (Encrypts end-to-end, using a self-signed certificate on the server)
Near overview, click on Edge Certificates > Enable Always Use HTTPS > Enable Automatic HTTPS Rewrites.
Don't change the other default settings.
Go to Page Rules > Click Create Page Rule
In the first box, type http://*.hextoid.com/* (replace with your domain)
From the drop-down menu, choose Always Use HTTPS > Save.
Enable it if this page rule is disabled
If you are entering this page rule, it will apply SSL to all your subdomains, posts, and pages.

Go to Speed > Navigate to Optimization Section.
In Auto Minify, enable the JavaScript, CSS, HTML
Step 5: Connect Domain To Hosting
When You have got the hosting and domain (SSL Enabled), it is time to connect them.
Log in to your cPanel > Copy the Shared IP Address
Go to DNS section of the domain > Add CNAME & A Record (value and domain name will be different in your case)
| Type | Name | Content |
| --- | --- | --- |
| CNAME | www | hextoid.com |
| A | hextoid.com | 5.182.209.142 |
Go to cPanel > Addon Domains
Enter domain name > Click Add Domain

Step 6: Setup WordPress Using cPanel
Log in to your cPanel > Search for WordPress > Click on WordPress
If WordPress is not available, then search for Softaculous and click either on WordPress or Softaculous Apps Installer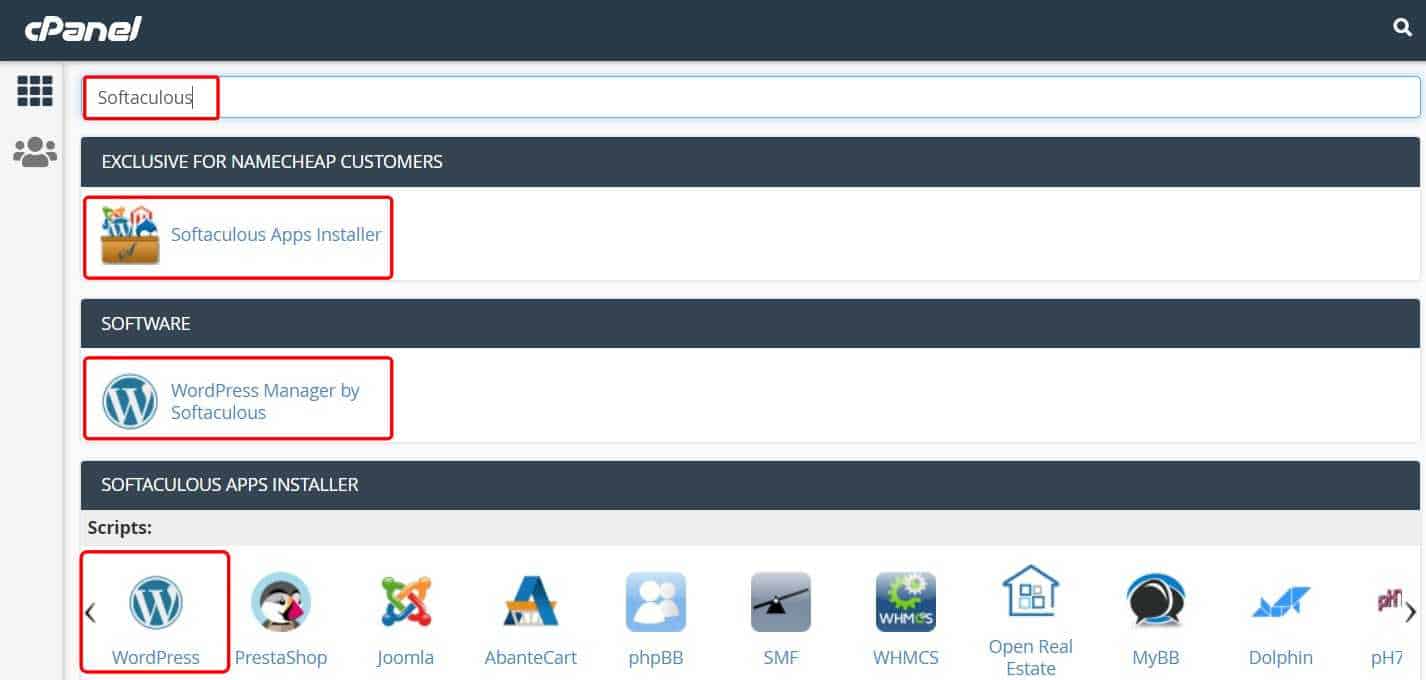 On the next screen click on WordPress
Choose the latest WordPress version > Continue with "https://" or "https://www." > Choose domain name > Leave In Directory empty
Enter site Name & description
Type the username & password that you will use to log in > enter email ID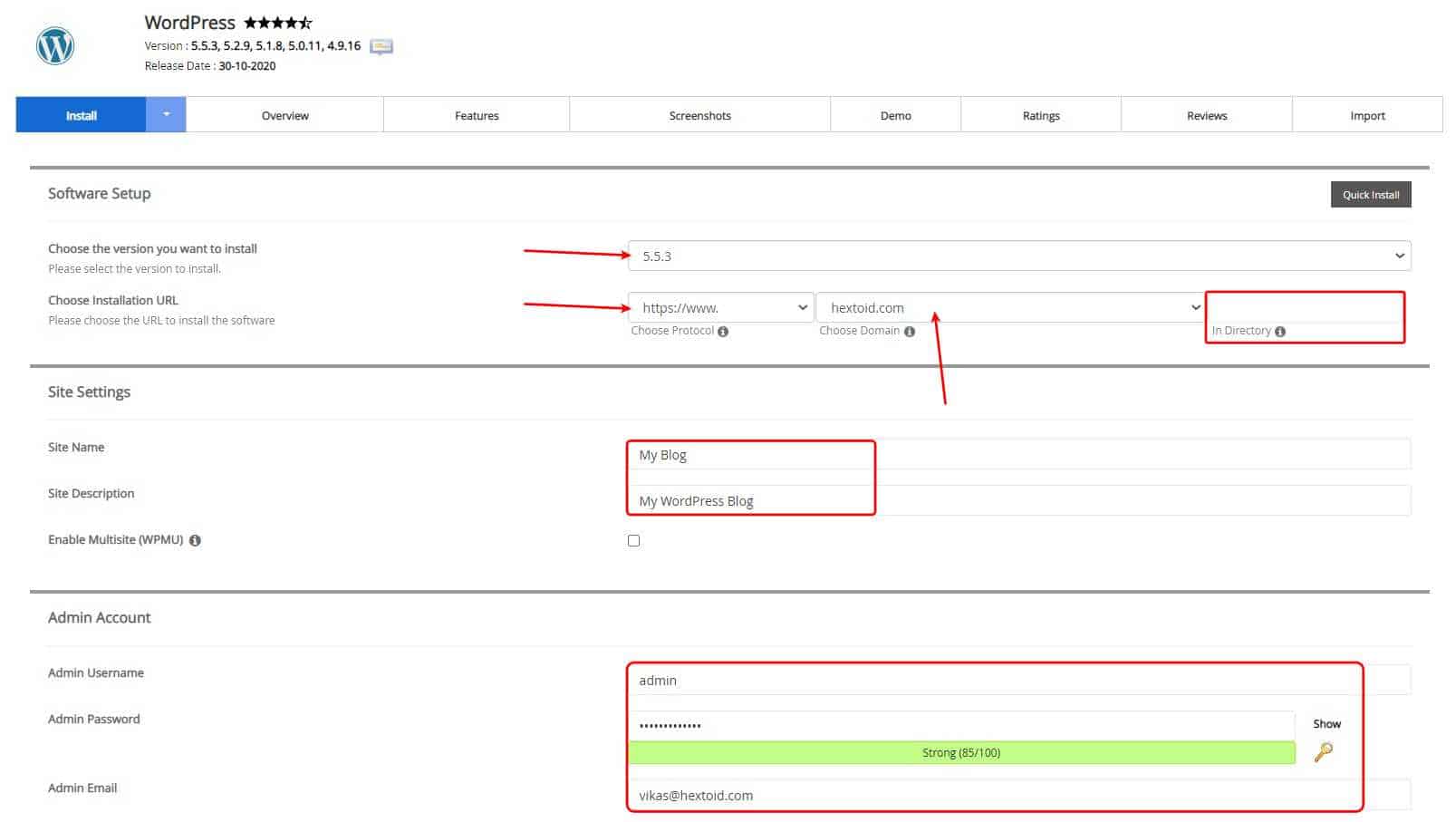 At the bottom of the page, click Install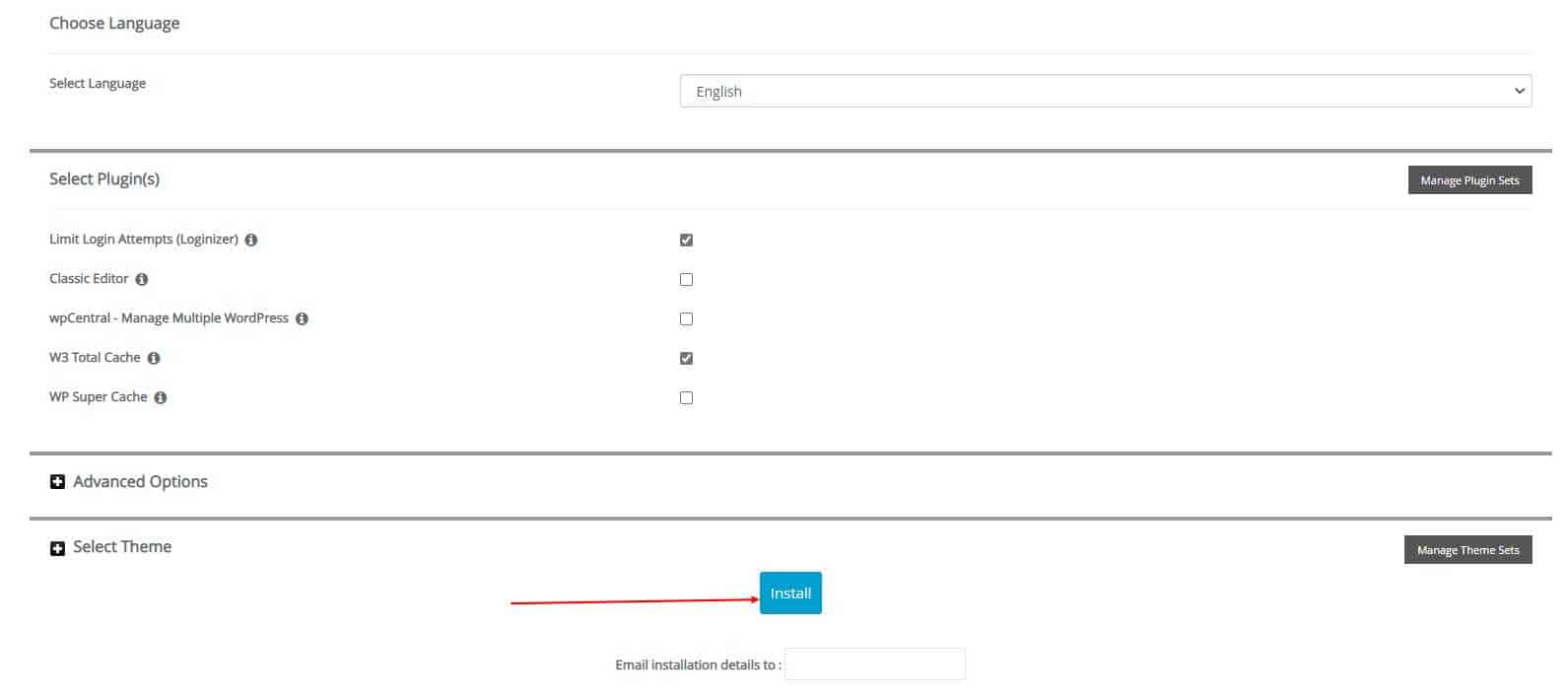 The next moment, Installation begins

After completing the installation process, you will get your Administrative Log In URL

Congrats! Your blog is live now.
Login To WordPress Dashboard
The default login URL to the admin panel of the WordPress website is https://www.website.com/wp-admin/. Along with it, there are a few more URLs using which you can log in, those are:
https://www.website.com/admin/
https://www.website.com/login/
https://www.website.com/wp-login.php
https://www.website.com/wp-admin/
https://www.website.com/wp/admin (Not for all sites)
Enter the Email/Username & Password that you used while installing WordPress > Log In.
Step 7: WordPress Important Settings After Installation
Go to Posts > Categories and change the Uncategorized Name and Slug to a primary category
Settings > General > Fill All the essential details > Select your Timezone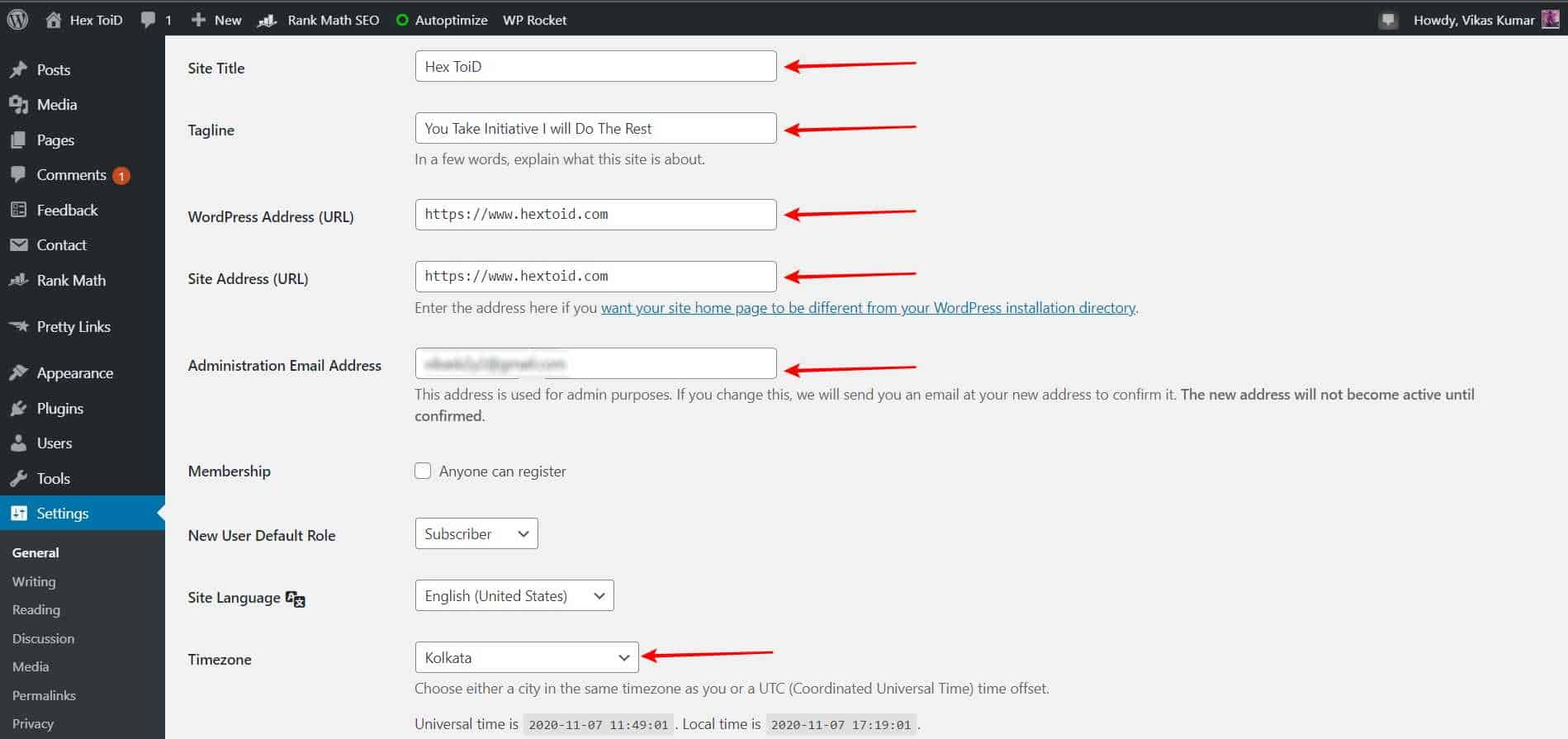 Navigate to Settings > Reading > and make sure "Search engine visibility" is Disabled
Go to Permalinks Settings and choose Post Name option
Step 8: Choose An Attractive Theme
The theme is the beauty of any blog. The attention-grabbing theme is essential, and the good thing about using WordPress has thousands of fully customizable free themes available in its directory.
Some of the popular WordPress themes are
Generate Press
Astra
Genesis
Newspaper
Kadence
OceanWP
Step 9: Install Important Plugins
Plugin on WordPress is just like installing an application from Google Play Store. It enhances the functionalities of WordPress by providing useful facilities. Some useful plugins are:
Autoptimize
Easy Table of Contents
Insert Headers and Footers
Jetpack
Akismet Anti-Spam
Pretty Links
Yoast SEO
Shortcodes Ultimate
Flying Scripts
Scriptless Social Sharing
Ad Inserter
All these plugins might not be useful for everyone, so you can eliminate them according to your website and need.
Step 10: Start Writing Your Blog Posts
The stunning blog posts are the only reason behind a successful blog; for creating blog posts, navigate to Dashboard > Posts > Add New.
A new window with an editor will open where you can type a catchy heading > article with media > category > tags > permalink > featured image.
Useful Tip: Always publish detailed articles, and focus on long tails keywords as they are easy to rank. Publish at least 20-25 quality articles.
Social media is the most powerful thing you can use to convert a website into a brand. That's why it is always recommended to occupy all the available social sites. As you can check, Hex ToiD is available on all the major social media.
Step 12: Add Your Site To Google Search Console & Analytics
I recommend you to add your website in Google Search Console & Analytics only when sufficient amount of article is published. In my case, I don't set up these things until I have published 8-10 quality articles on my blog.
Step 13: Promote Blog Posts/Build Backlinks Using Free Resources
When you feel like your blog is ready to compete with other blogs, then it is time to promote it by using free resources. To build authority, you will need quality backlinks; either you can make yourself or ask someone to link with your published articles.
Once you start getting quality links, search engines will start giving priority to your posts, and there is a chance they may rank higher in SERP. For free take the help of
Quora
Web 2.0
Social media

Make videos

Build Email List
Step 14: Blog Monetization
When your blog starts getting visible in search results and start getting some traffic, it is time to generate some revenue through it. Various ways are available to generate revenue after starting a blog. Some of the most popular ways are:
Link selling
Ad Networks
Sponsorships

Sell own products

Affiliate Marketing

Banner placements

Guest posts offering
People Also Ask
How Much Does It Cost To Start A Blog?
If you are spending min only on domain & hosting, then the amount you have to pay is $2-$3/month. But it varies depending upon the services you choose.
How Do I Start A Blog With No Money?
If you have no investment, I would suggest you start blogging with Blogspot. It is a free CMS by Google to create a free blog.
What Is The Min Time a Blog Needs To Start Making Money?
From my personal experience, if you are working on a single blog with full determination, the maximum time required is 3-6 months. Still, if your niche is highly competitive, it will need 1-1.5 year, but it all depends on how you are working.
Wrap Up
Congratulation! You have successfully launched your money-making blog in 2023, but a question arises, Is it enough for a successful blog?
Yes, but not 100%; to create a successful money-making blog, you have to make lots of effort and require a good knowledge of SEO, Link Building, Writing Blog Posts, and many more. Because to earn, first you have to learn.
If you have any queries, feel free to drop it down in the comments, it would be a lovely opportunity to help you with that.
Happy Blogging