A blogger shares his/her thoughts about a specific topic or niche on a blogging platform.
We are here to provide you with the latest 7 must use helping tools to complete the work within no time.
Blogs allow you to convey your thoughts and knowledge expressed in your own thoughts about any niche.
Some of the bloggers write about their activities during the whole day.
Most of the bloggers used to write on different niches like products, services, information and all.
If you are a blogger, you can use a number of useful tools to grow your blogs on a website with a complete SEO strategy.
Also, blogging will definitely help you in earning, generating leads and making trust with your visitors.
All you need to do is to invest your time, money and effort to increase organic traffic to your website.
To publish blogs on your website, you must have a proper tool which will help you in finding your niche, best keywords, optimizing your website, making quality content, and building high-quality strong backlinks.
Before start blogging, you must have the proper knowledge about all the latest tools which can you in growing your website in a well-manner.
The tools which we are going to discuss are 100% secure and will help you to improve your blogging style as well.
7 Useful Tools For Bloggers
Further, we are going to discuss the 7 must use helping tools for bloggers to complete their work with no time:
The tool comes in the first place on our list due to its excellent grammar and spelling checking features.
This tool automatically checks spelling and grammar mistakes in your content and it is one of the best tools to make a strong strategy.
You can check grammar just by pasting the document into the Grammarly.
You can also install its extension for your browser and after installing the extension, it will automatically detect grammar mistakes.
This amazing tool helps you in increasing your content's quality and you can build a strong blogging strategy simply by using the tool.
It is an online tool used to reword documents, essays and words within a few seconds.
The tool is used to rephrase sentences and paragraphs line by line and word to word and gives nearly 100% unique content.
You can directly enter the document into the paraphrasing tool or can attach the specific file with a tool just as:
Just with a single click on the Paraphrase button, all of your documents will be paraphrased easily with the help of this excellent tool.
By using this online, your content will be completely plagiarism-free.
The tool is trustworthy to build a strong SEO strategy to increase your site's traffic organically.
Also, by using this tool, you can definitely avoid the failure of your strong SEO strategy.
3. Trello: Make your Plans
It is multi-purpose amazing software widely used for business purposes. Here, you can plan to make a strong SEO and content strategy.
You make boards according to your requirement and add different cards related to some task will be placed there.
Trello is the best platform to organize your projects, daily plans and other events just in one place.
It is a mobile-friendly tool and can be accessed anywhere and at any time.
This online tool is included in one of the finest web-based online list-making apps and here you create tasks for your team members and make different columns to have a check on your project.
You can create different columns such as your daily or monthly To-Do List, in-progress tasks and a column of done projects as well.
If you want to find out the best keywords to write blogs for your website, believe me, Ahrefs is one of the best keyword research tools in the industry.
It will provide you keywords with which has the highest traffic and can be easily ranked on the search engine due to its low difficulty level.
The tool isn't free and it offers a one-week trial to its valuable customers.
The tool shows the complete stats of your competitor's site and shows the accurate organic traffic and all type of backlinks of the next person's website.
By using this impressive tool you can easily figure out how your opponents are building their backlinks and then make your own unique and strong strategy to beat them.
It is included in one of the best apps specially designed to take notes, organizing different tasks.
You can create your customized notes here and can organize the whole plan to complete your project.
The amazing app allows its users to create new notes which can be in the form of text, photographs, drawings or any kind of other documents as well.
The tool offers some limited features for free users and you've to pay to access its all excellent features.
Evernote also provides strong research facilities and here you'll get excellent features to make your blogging perfect and impressive.
Want to make your blogging effective and less time taking?
Use this free and amazing open source Content Management System "CMS" tool for blogging.
It is free to install the tool and one of the most popular platforms to share your ideas and research in the world.
The tools meet the requirements of a number of different users with it outclasses and flexible framework.
It allows every developer or web designer to customize their apps.
Here you'll get a number of free plugins and customizable themes to grow your site in a better way.
Simply drag and drop documents into any post or page and easily update your website with a mobile phone anywhere and at any time.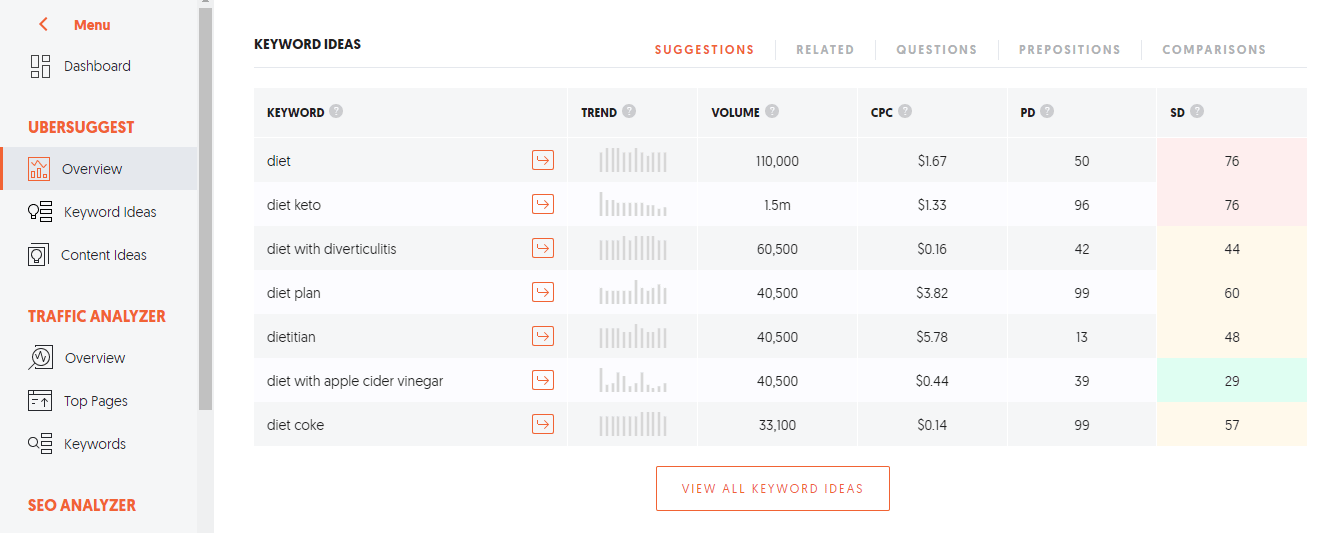 It is quite an impressive and excellent tool to find out the best suitable keywords for your site.
You can easily get unique content ideas for your blog posts.
If you want to deeply analyze the competitor's website and want to find out their top rank pages with the best cost per click keywords, simply use this tool to get all of that information.
To get ideas about a keyword or want to check the details of a website, simply place the keyword or URL in the specific menu and get the results done.
The tool completely simplifies the web development process and provides efficient content management features to the users.
Wrap Up
If you want to make your blogging efficient and effective within no time, just check the mentioned above 7 must use helping tools for bloggers to complete their work with no time with the help of the latest features.