Disclosure: Some of the links to products in this article are affiliate links. It simply means, at no additional cost to you, we'll earn a commission if you click through and buy any product.
This is the step-by-step tutorial to take the backup of your WordPress site automatically on a daily basis and store those backups safely on cloud storage (Google Drive), then I have got a Wonderful free WordPress plugin UpdraftPlus – Backup/Restore.
Updraft provides some extra additional features when you subscribe to their premium plan, but if your work is just to take backup or migrate your site then there is no need to go with the premium plan.
Also Check: How To Migrate WordPress Website Manually Via cPanel?
How To Automatically Take WordPress Site Backup Daily For Free?
1. Plugin Installation & Setup
Step 1: Log in to website Dashboard > Plugins > Add New > Search For "UpdraftPlus – Backup/Restore" Install & Activate the Plugin

Step 2: Navigate to Settings > UpdraftPlus Backups > Settings > Set Files & Database backup schedule to Daily > Tap on Google Drive
These settings will daily take the backup of your site and send it to Google Drive, and keep it for 4 weeks, and after 4 weeks it will be automatically deleted.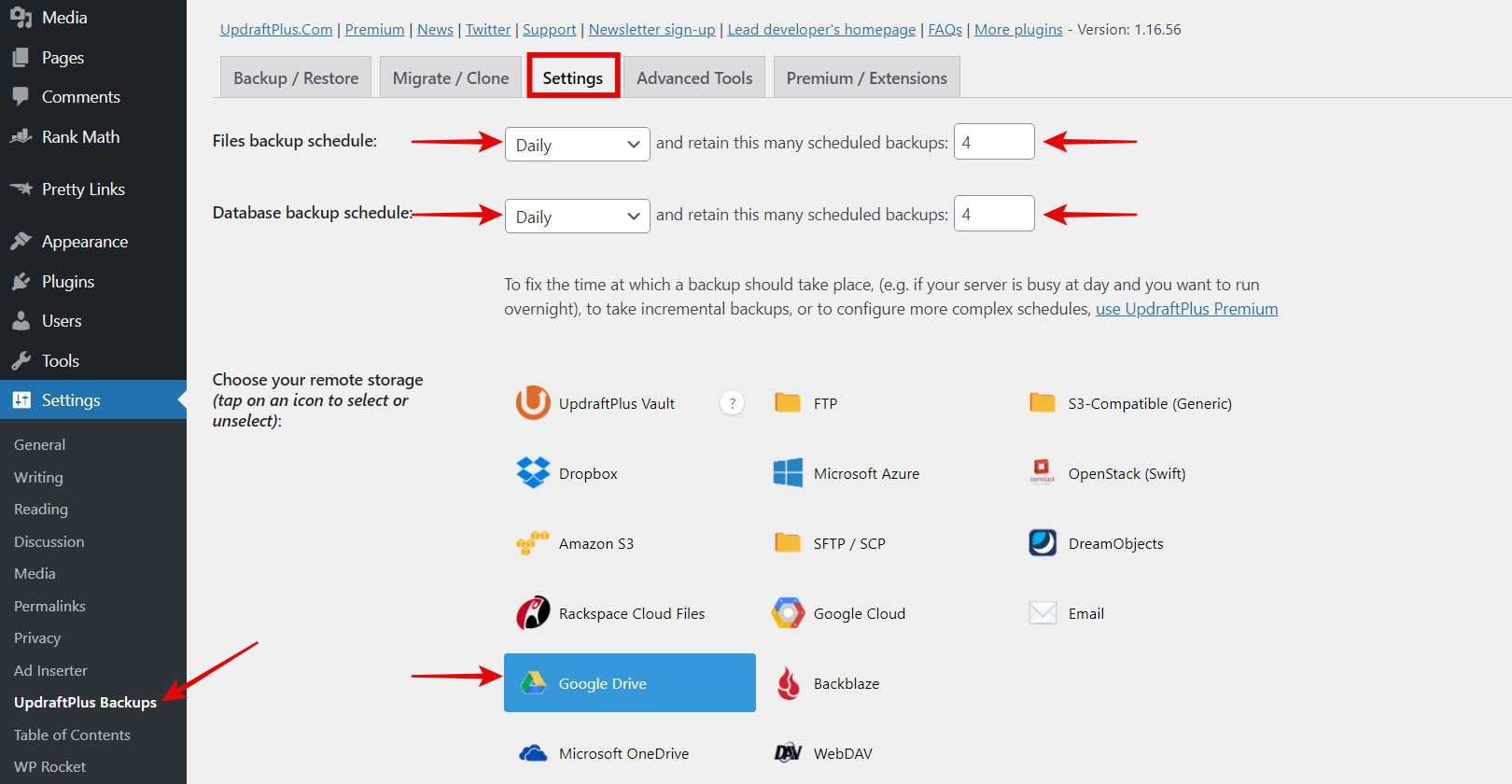 Step 3: Scroll down & click Save changes
2. Authorize Google Drive
Step 4: Click on the Pop-up link [Follow this link to authorize access to your Google Drive account (you will not be able to backup to Google Drive without it).] or the link available at the top marked in red color

Step 5: Authorize your Google account and click Complete setup
Step 6: The success message will appear at the top & the next backup will be automatically scheduled

3. Take Website Backup Manually With UpdraftPlus
Step 7: Tap on the Backup/Restore tab click on Backup Now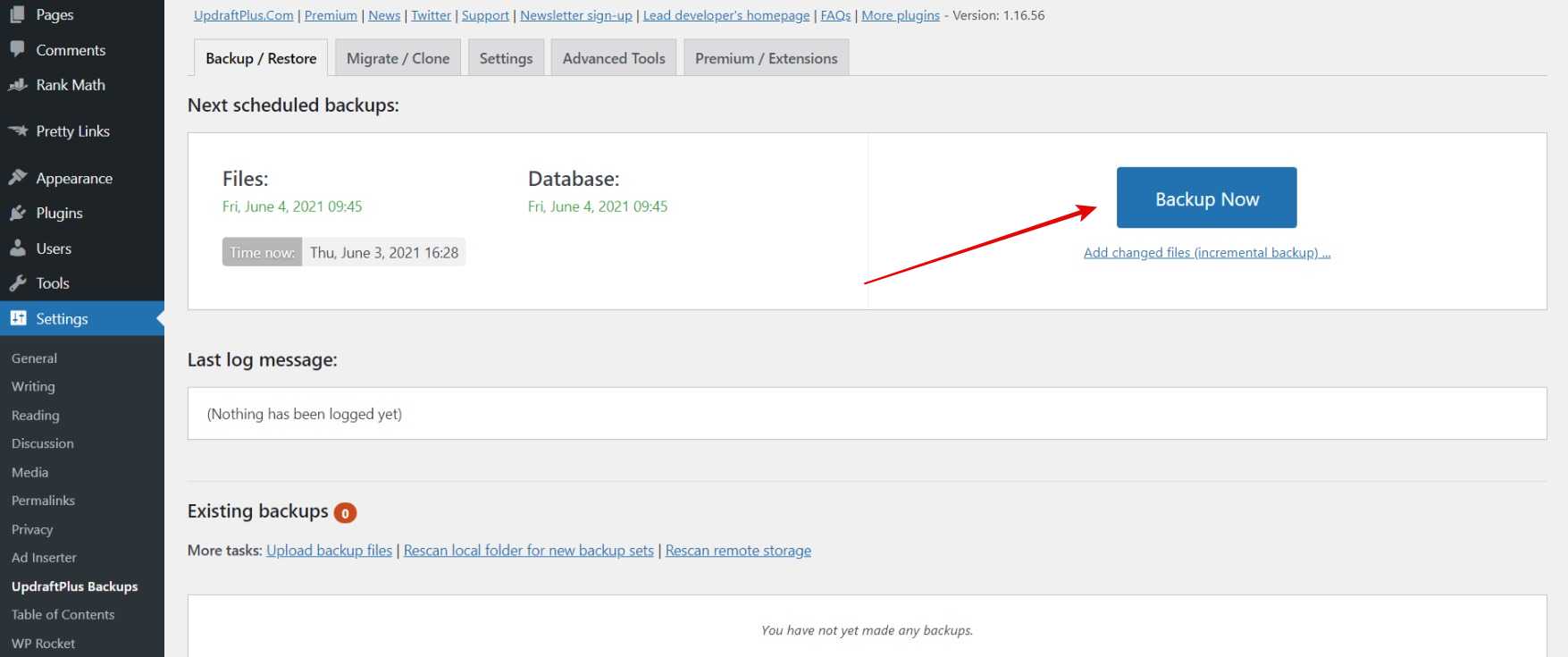 Step 8: Tick these 3 options > Click Backup Now
Include your database in the backup
Include your files in the backup
Send this backup to remote storage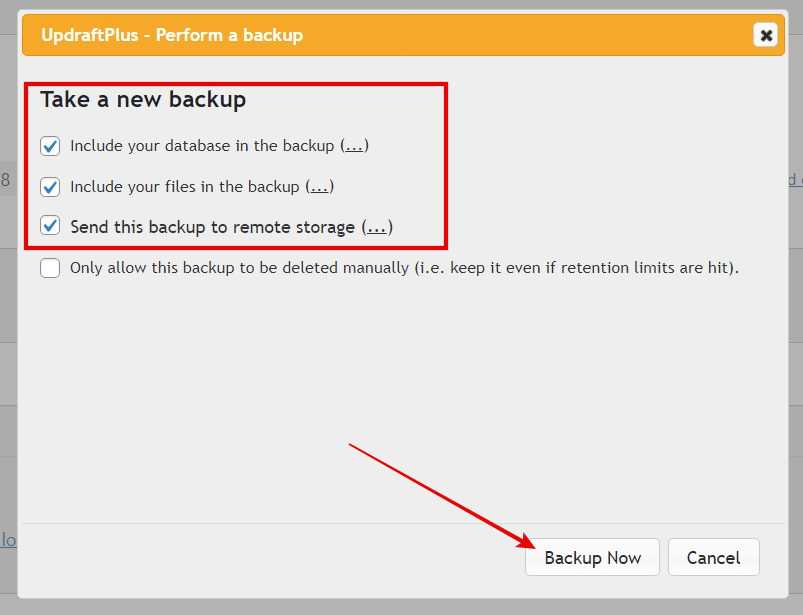 The backup will be taken and displayed at the bottom, and also saved in your linked Google Drive account in the UpdraftPlus folder. It may take more or less time depending upon website file size.
Step 9: You can restore this backup anytime by clicking the Restore button

4. Restore Backup From Google Drive/Manually
If all your website content is deleted by mistake or some unknown person has taken the control of your backup or you want to migrate to another host then this step can be used.
Step 10: Change Nameservers
Step 11: Install WordPress to your site > Follow the procedure from Step 1 – Step 5
Step 12: Under the existing backup option click on Upload backup files (have to upload backup files manually) or click Rescan remote storage to fetch backup files directly from Google Drive
Step 13: All the backup files will appear here > Click on Restore to restore back to the old site

Wrap Up
This is the easiest and most effective way to automatically take WordPress site backup daily for free. Suppose if anything goes wrong on your site due to updating any theme/plugin, or any attack goes on your site then in that case you don't need to worry because you have the backup.
So I'm assuming that from now, you will also keep the backup of your site daily, and never lose any work that you have done. If you want some additional features which are not available in the free version, then subscribe to its premium plan.