Disclosure: Some of the links to products in this article are affiliate links. It simply means, at no additional cost to you, we'll earn a commission if you click through and buy any product.
You are at the right place if you are looking for the best sites for free illustration, which can be used for any personal or commercial purposes. Some illustration sites provide vector images without any attribution in high quality.
A single Illustration is enough to make a blog post viral, One Illustration can replace many paragraphs, but finding Royalty-Free illustrations is critical.
Most of the bloggers uses Premium Illustrations as it easily grabs the reader attention and make them to share it with others.
Quick Guide Before Using Illustrations
Before you start using these illustrations make sure to keep these points in mind.
Double Check For Copyright: The sites listed below provides copyright free illustrations. But it would be much better if recheck their usage guidelines.
Make A Plan: Using Illustrations without a plan won't be much effective if it is not embedded at the right place. That's why plan is very important how and where you have to use.
Analyse Competitors: Competitors sites are the best way for inspiration, that how they are using and what type of Illustrations they are using.
Using copyright free illustrations by making a plan and analysing the competitors site can make the best use of illustrations.
12 Stock Image Sites FREE For Commercial Use
We will be talking about each site one by one, so stick to the end of the article to find the best platform for Royalty-Free Illustrations.

1. Freepik: Free Vectors, Stock Photos & PSD Downloads
Pexels is the leading platform of this industry that delivers millions of stock vectors and illustrations from all the categories. You will never run out of graphics and unique stock vector images.
It is available in both the Free and Premium version. In the free version images are limited for users but it is not so in the premium one.
If you are not much comfortable with the free version try the premium version of Freepik with best photos for your online business and blog post.
This platform deliver special images for every ongoing and upcoming festivals such as it is the time of Dussehra in India and Halloween in other countries so they have made special vectors and illustrations for these occasions.
Freepik not only deliver the content but it also helps the creators to make money through it. Process of making money using Freepik is very simple. All you have to do is to Sign Up > Share Your Content > Get Paid For Your Work.
Images are available in AI, SVG or EPS formats.
Freepik issues its own License and you are not allowed to use Free Images Without giving credit to the author. Freepik Stories has a massive database of High Quality stock vectors.
All the vectors at Freepik is not available for free to use without attribution so you have to recheck their license policy before using it.
For commercial and personal projects
On digital or printed media
To make modifications and use accordingly
Don't use without attribution
Relicensing strictly prohibited
2. unDraw: Open source illustrations for any idea
unDraw is the another platform for Royalty-Free illustrations run by Katerina Limpitsouni since 2017, and it doesn't ask for attribution if you are using their images.
The best thing about undraw its images don't lose quality and by using the color palette you can directly change the color of the available images without any headache and most importantly the site is superfast in loading.
In 2017 when Katerina began this platform she designed over 500 illustrations from different categories.
unDraw License is straightforward and everything is clearly mentioned about its usage.
No Attribution Required
Use for Commercial and Personal projects
Don't replicate unDraw
Redistribution not permitted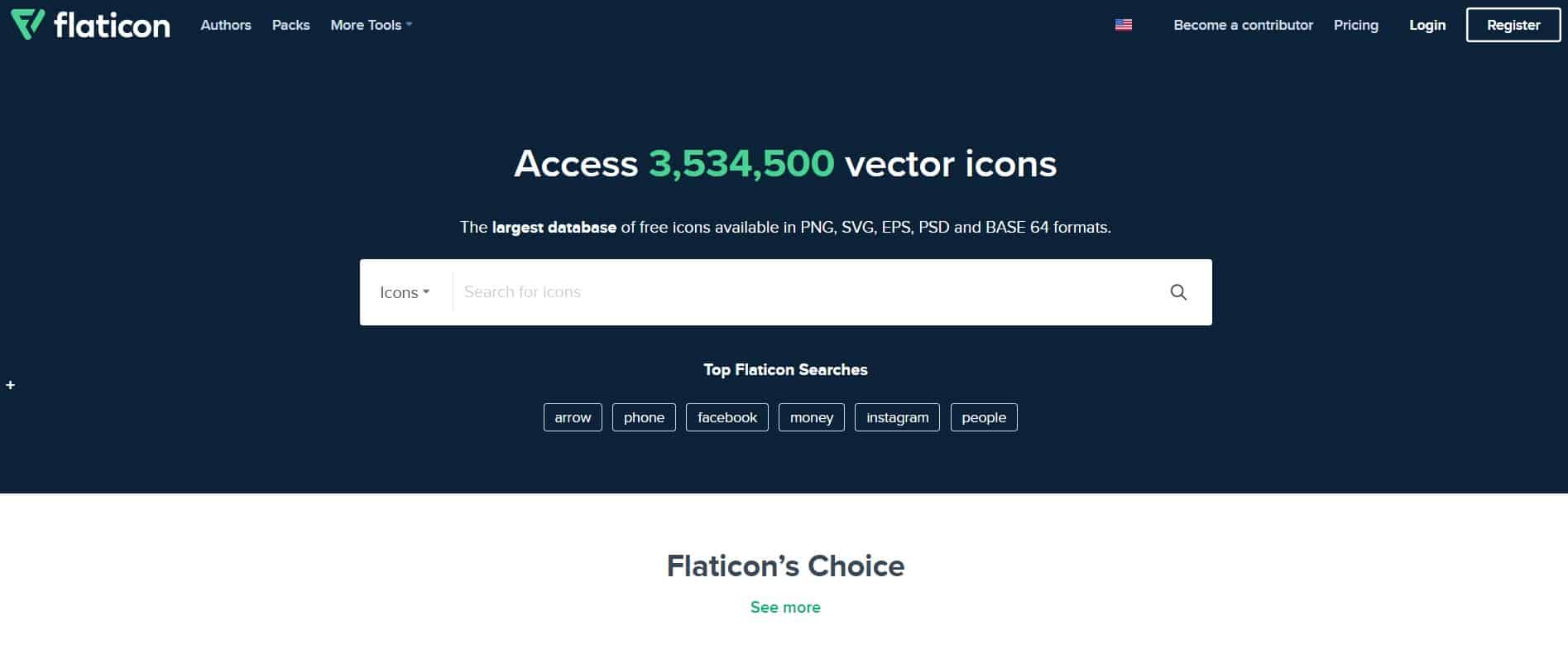 3. Flaticon: Free vector icons – SVG, PSD, PNG, EPS & Icon Font – Thousands of free icons
It is one of the largest platform for free icons in more than 64 image formats. For any blog Icons are becoming very popular specially social icons, and you can't find a better platform than Flaticon.
You can also check Freepik Icons and Slides at Google Workspace Marketplace
This site is also managed by Freepik and usage license is similar to it.
Speciality Of Freepik
Download Icons in every image formats
Customize the Icons (Color, Width, Size)
Patterns generator, Font-face generator, app for macOS
Premium and Selection content available for everyone
According to Flaticon Attribution Policy if you are the free user then you must credit the contributor for their artwork.
Ex: Icon made by Contributor from www.flaticon.com
After downloading their content as a free user without giving credit, there is a chance that they can take legal action against your site.
4. DrawKit: Beautiful free vector illustrations
DrawKit is another platform built by James Daly to help marketers and start-up companies easily create their designs.
You can download 50 Free illustrations in editable PNG as well as SVG format. Images available belongs to lots of different categories.
All the files that you download lies under MIT License.
This platform is trusted by many popular brands such as Google, Amazon, Toptal, InVision, Typeform, etc.
Under DrawKit License you are allowed to do a few activities and a few not.
Allowed
It can be used for commercial and non-commercial project for print and digital products
Attribution is not mandatory
Not Allowed
Don't compile and redistribute icons and illustrations
Don't sell unaltered copies of icons & illustrations
Ex: On posters, prints, mugs, or t-shirts
For more information about licence and any other things, Contact DrawKit.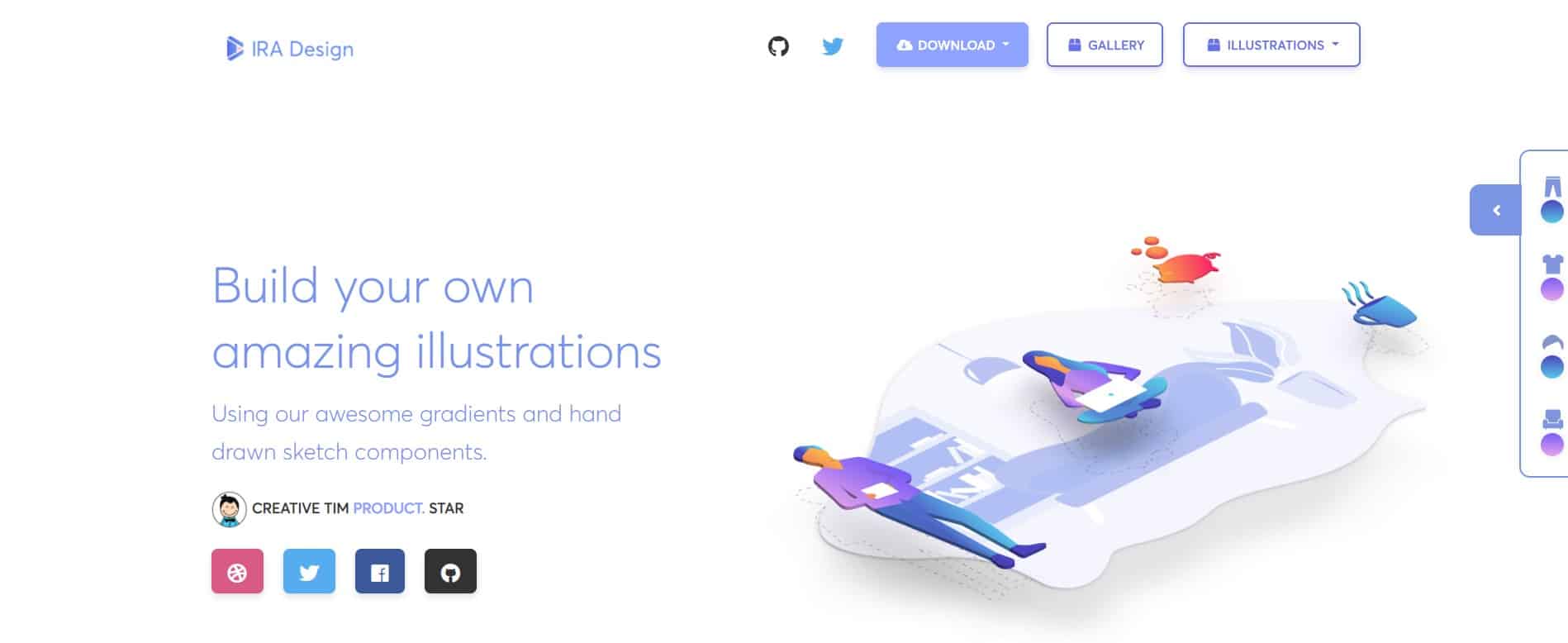 5. IRA Design: Build your own amazing illustrations
IRA Design is another platform that let you create custom illustrations with the help of pre-made templates.
Every components used in the Illustration have 5 awesome gradient Color and you can download them in SVG, AI, or PNG format under MIT License.
You are also allowed to download the Background, Character and Object separately and mix them to create your own unique image.
It is very useful for developer as well as designers.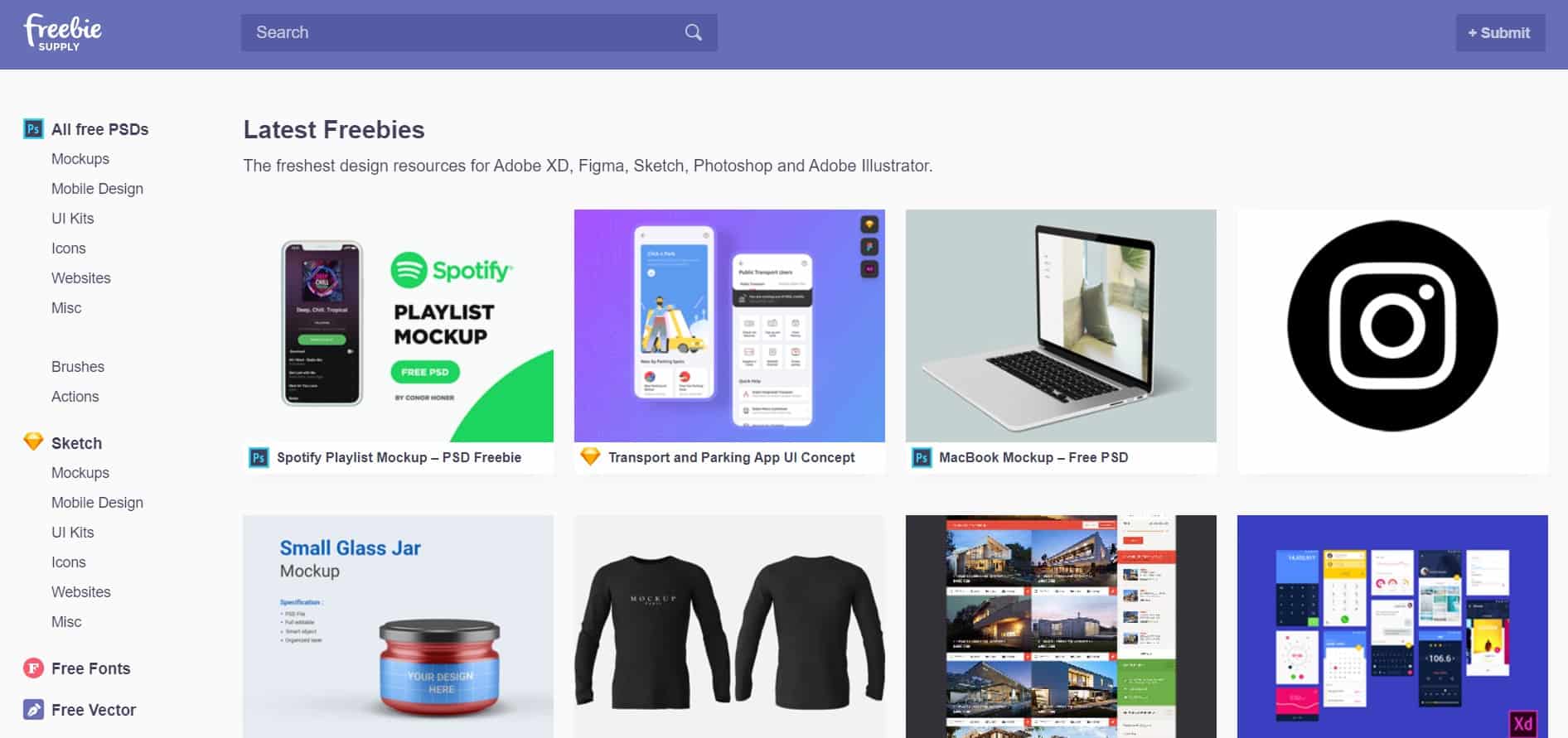 6. Freebie Supply: Free Resources For Designers
Freebie Supply will help to find tons of useful materials for graphics designing and programming. It embeds resources many different site at one place so don't have to check many websites.
All these contents available here comes with different and their own usage license, so you must recheck their policies.
Currently, it has over 5.6K+ page free contents.
7. Absurd Design: Free Surrealist Illustrations and Vector Art
Absurd has a good collection of simple illustrations, available for free. It comes in two tiers one is free for lifetime whereas for the other way you have to purchase the membership at $57 per quarter.
But in the free version there are lots of restrictions such as
Attribution Mandatory
11+4 Free Images
Available only in PNG format
But in premium subscription you will get rid of all these issues along with some more additional and useful features.

8. ManyPixels: Unlimited Graphic Design | Get Your Personal Designer
Many Pixels is another platform that is very much similar to unDraw. Just like unDraw before downloading first of all you have to choose a primary color of the illustrations and then you can download these in SVG as well as PNG format.
You are to use these Images in any imaginable ways, but reselling and relicensing is strictly prohibited. You can read more about usage guidelines at their Gallery License page.
9. Humaaans: Mix-&-Match illustration library
Humaans offers a massive library of free illustrations which can be fully customised such as positions, clothing, colors, and hairstyle to make it look unique and according to your need.
Here you various useful tools such as Sketch, Figma, InVision Studio, Adobe XD to mix and match Clothes, Hair Styles, Poses, Backgrounds, Color palette, etc.
To make your work easier it also provides pre-made templates that you can select according to your project.
It is completely free and that allow you to use their creativity without credit, license as its license lies under CC0.
To use Humaans for free, just put $0 in the price. But if you feel like paying them for their artwork, add some funds to it.
10. Ouch!: Free vector illustrations to class up your project
Ouch! is the service provided by Icons 8 (famous for delivering premium icons) to provide illustrations for free.
As it is made available free to use in any project but according to Icons8 License you must credit the image in whatever page you use these images.
If you are using in every page, just add a link at the footer.

11. Interfacer: 300+ free design resources
Interfacer has a massive collection of high quality free Fonts, Illustrations, Mockups, Icons, 3D, Web Templates, UI Kits created by awesome Designers. You can use them in any commercial project.
Each resource will take you either to the official website or direct download page.
12. Vivid.js: Free Open Source SVG Icons Set Pack and Library
Vivid.js have a huge collection of 90+ pixel perfect, hand crafted icons to use in any project. All icons can be easily used and can be resized as well it can be changed in 5 different colors.
Icons at Vivid.js are super lightweight and minified version equals around just half size of the original SVG icons.
You can also read How To Use Vivid.js Icons?
Wrap Up
I don't think after reading this article you are going to struggle again for free illustrations, icons and vectors. In the above list, I have tried to mention only the useful and trusted sources. But my recommendation is to recheck their licence and policies before bringing it in use.