Disclosure: Some of the links to products in this article are affiliate links. It simply means, at no additional cost to you, we'll earn a commission if you click through and buy any product.
Ahrefs is a premium tool, and everybody wants to use Ahrefs for Free, whereas some use Ahrefs Cookies 2023 Download, which is the wrong way. But the price of the tool is too high that everyone can't afford it.
But, after reading this article, you will be able to use Ahrefs FREE for a lifetime without any ahrefs cookies download with legal methods.
I have read many articles where that talk about illegal methods, that is Ahrefs Cookies which are not the genuine way, and they don't permit this technique.
But you don't have to worry about it because you are going to use ahrefs for free from the official website without paying anything and without downloading cookies.
I have been personally using Ahrefs for free for the last 2 years, and it is working very well for me. By the way, it has some limitations, but almost all your work will be done with this.
Also Check: SEO Tool SEMrush Free For Lifetime
Points To Notice
Official Website Used
Without Any Illegal Method
100% Genuine & Secure
No Ahrefs Cookies Download
No Ahrefs Hacks
No Ahrefs Subscription
No Ahrefs Alternative
No Ahrefs Id + Password
How To Use Ahrefs FREE For Lifetime Without Cookies?
Visit ahrefs official website
Scroll to the footer section
There you will find these tools available for free
It is a free webmaster tool launched by Ahrefs to display the on-page and off-page SEO details of verified sites.
Suppose your website is not in a good position due to some problems in the website and you have no idea of it, then this tool will be very much useful for you.
For verified sites, it displays
Health Score
Domain Rating
Referring domains
Backlinks
Organic Traffic
Disavow links tool
Organic Keywords
By using the free Ahrefs Backlink Checker tool, you can check the backlinks of any website, and it is the most used tool of Ahrefs.
Backlink plays a major role in the ranking of any website, and if you know the secret of any website, it will be easier for you to outrank.
In the free version, there's a limit of 100 backlinks only.
Ahrefs Broken Link Checker helps you to find all the incoming and outgoing broken links on your website.
Broken links send a negative signal to the search engine, and increase in the number of broken can let your website get added to the list of spam websites.
Sometimes this recovery becomes impossible, so it would be better to take precautions.
Results will be limited in the free version of ahrefs.
Authority Checker of ahrefs displays the rating of the domain according to them. But it doesn't mean every search engine and tool has the same authority for that website. It is because every tool has its own different parameters.
Ahrefs decide on domain rating based on the quality of links pointing to your website.
This score starts from 0 and ends at 100. Higher the number, the stronger and more authoritative the site is.
You may be thinking, how can I get the benefits of this tool. The answer is very simple
It is a way to check the Power of a website; if the authority of a website is less and your site authority is more, there is a high possibility that your website will easily rank in the SERP.
According to ahrefs saying to increase domain authority, you need to get more high-quality backlinks to your website, and this is the only way.
Advanced Keyword Research is the initial stage behind any successful online business.
You will be surprised to know that the free ahrefs Keyword research tool displays the data for four platforms.
Google Keyword Tool shows the keywords search volume and keyword difficulty. For the rest of the tool, it displays only keywords and search volume.

SERP Checker by Ahrefs lets you about the top ranking sites on a keyword in the search result with lots of useful details.
Once you analyze a keyword using this tool, you don't need to check the authority and backlinks for that page one by one.
For free version, only 3 websites data get displayed, whereas 7 websites appear in the search.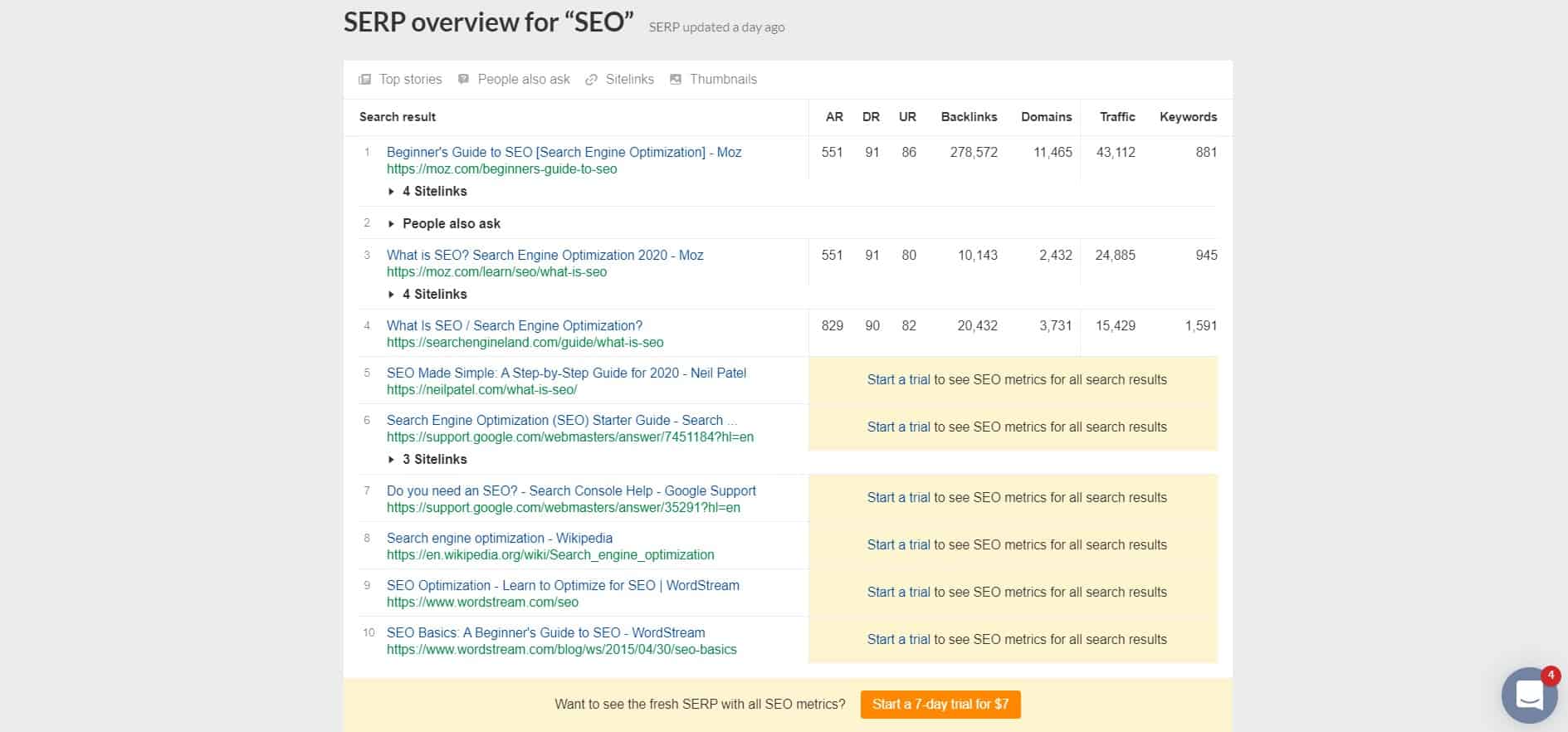 It is similar to the SERP Checker because one additional tool you get here is you will get to know about the keywords of a website on which position it is currently ranking.
The rest of the details are similar to the Ahrefs SERP Checker tool.

If you know how competitive your keyword is, then it would be easier for you to decide whether to work on that keyword or not.
It is advised to every newbie Blogger to work on low, competitive keywords as it requires less effort to rank in the search result.
Ahrefs shows difficulty from 0 to 100. The higher the number more competitive the keyword is.
It is a new tool released by Ahrefs to check the top 5 ranking keywords and URLs of a domain. It also shows the search volume, position, top 5 countries, and traffic percentage that pages are getting from the SERP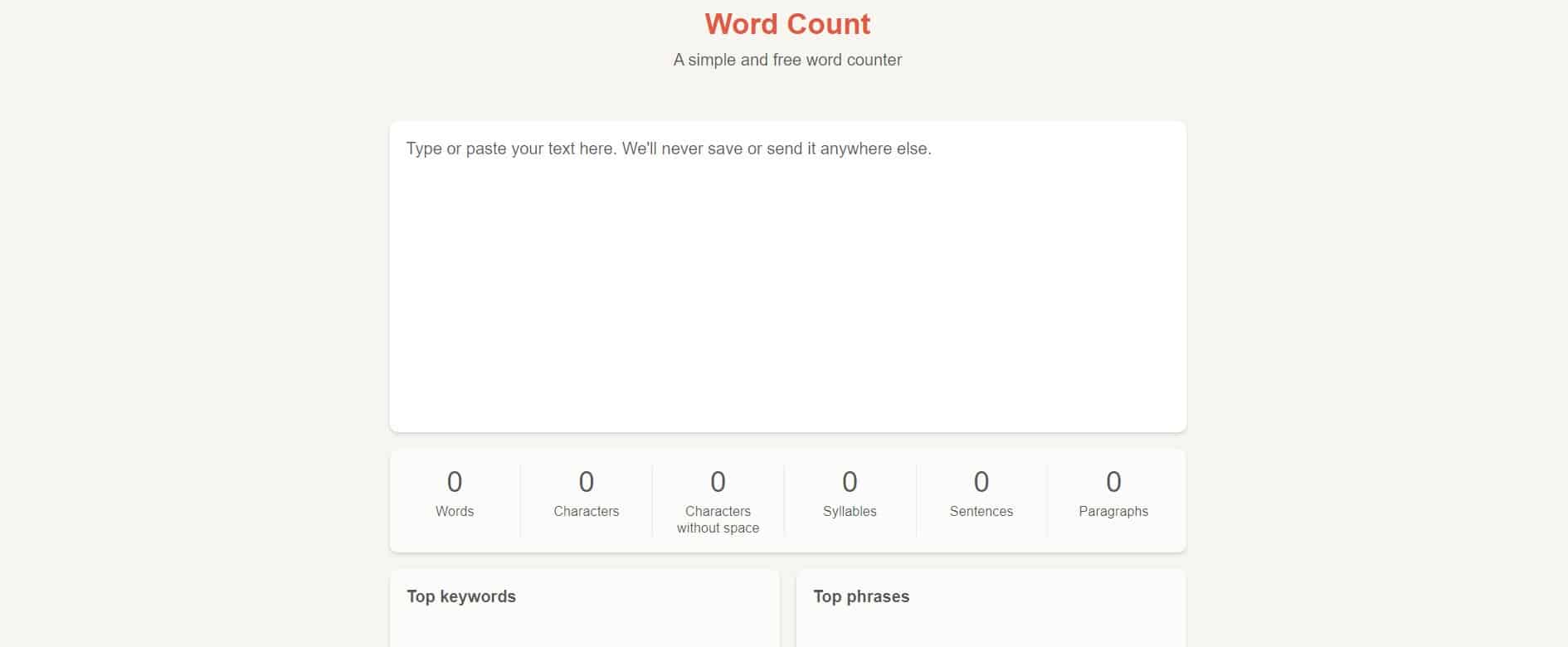 In WordPress, if you are writing an article, everything is clearly mentioned about the characters, words, paragraphs, and headings, etc.
Whereas there are a few platforms that don't display these things.
But the ahrefs has a tool that makes things easier for you to count all these at once. Most importantly, Ahrefs claim that they don't share written texts with anyone.
Pros and Cons Of Using Ahrefs Free Tools
Pros
Available for free
No subscription charges
No limitations on keywords and domain search
No Sign-up and login except webmaster tool
Cons
Results are limited
Each time have to solve a captcha
The overview is not similar to the premium version
People Also Ask
What is the Ahrefs tool?
Ahrefs is an SEO tool that displays data of its own and competitors' websites. These data include Backlinks, Top-Pages, Organic Keywords, Domain Authority, etc.
Is Ahref free?
Yes, it is 100% free for website owners and other free tools of ahrefs are mentioned above.
Is Ahrefs worth the money?
It is a value-for-money SEO tool if you are using it in the right way.
How accurate is Ahrefs?
None of the SEO tools is 100% right. In the case of ahrefs its data is 70-80% right from the actual result.
Can I export ahrefs data?
Yes, you can export the ahrefs data for the available tools in the Excel sheet.
Should I Need To Use Ahrefs Cookies 2023?
No, for this tutorial, you don't have to use Ahrefs Cookies because here, we are going to use the official Ahrefs site.
Wrap Up
I am assuming that this article helped you to use Ahrefs for free. If you have any queries, please drop them in the comment below.
In the free version, data are limited, and you can't have a better experience; it would be much better if you get its premium version rather than using Ahrefs cookies.
Happy Blogging!