Disclosure: Some of the links to products in this article are affiliate links. It simply means, at no additional cost to you, we'll earn a commission if you click through and buy any product.
Blogger is a free CMS (Content Management System) but being free there are lots of limitations due to which most people prefer to start a blog on WordPress, and the boring blogger templates are one of those.
In the library of blogger, you will find a lot of themes that are free, responsive, and easy to customize but the one thing that it doesn't have is a good design.
Good design of the website is one of the best ways to attract new audiences, but whatever the free blogger templates available on the web either it has a non-removable footer credit at the bottom or some other issues.
In this article, I have mentioned some of the best free responsive blogger templates which will make your blogger website looks professional. Bookmark this page because it will be updated in the future with some more free blogger themes.
How To Choose The Best Blogger Theme?
You see every blog can't be of the same type because their content is different their users are different, but there are a few things common in almost all types of blogs on which you can choose the best Blogger theme for your website.
Here I'm mentioning some of the widely used techniques for the selection of the Best Blogger Templates.
Responsive Design: Responsive Design is the first priority of all the themes, if a theme is responsive it will be automatically adjusted to any screen size let it be Desktop, Mobile, or Tablet.
SEO Friendly: SEO Optimized & well-structured themes/templates help search engines to easily understand your website, and when they know about your site properly it will also rank easily.
Fast Loading: According to Core Web Vitals if your site is faster than your competitor there is a chance that it will be rank higher positions.
AdSense Ready: This requirement is essential for those websites whose main source of earning is AdSense. If a theme is not optimized for AdSense then it will help you to make more revenue than your expectations.
Attractive Design: Attractive design is not much important but if your site has a good design it will help you to reduce the bounce rate and there is a chance it may bring more audience.
7 Free Blogger Templates
Here I'm listing all the responsive and free templates for blogger which will help you to convert your simple-looking Blogspot website into a professional one.
1. Freebify – Responsive Blogger Template
Key Features:
Author Bio
Shortcodes
Related Post
SEO Friendly
AdSense Ready
Premium Design
Beautiful Sidebar
Mega Menu With Image
Integrated Share Buttons
2. Median UI Blogger Theme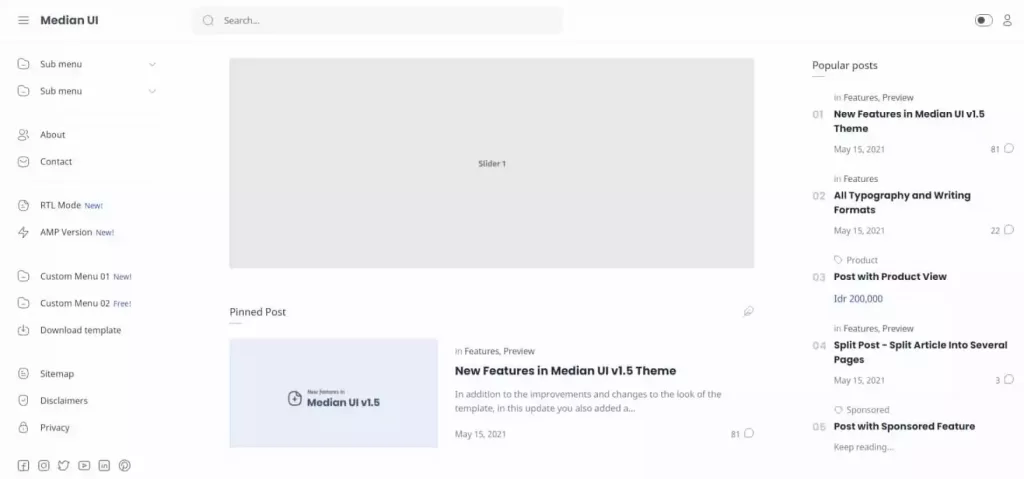 3. SeoPro – Responsive Blogger Template
4. Volta – Idntheme
5. SuperMag – Responsive Magazine Blogger Template
6. Faryfinit – Multipurpose Blogger Template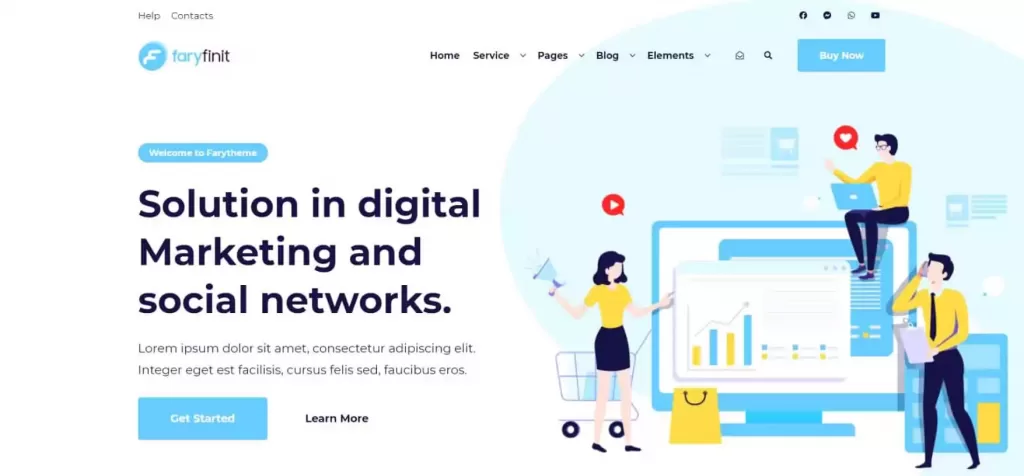 7. Zahraa – Lifestyle Blog & Magazine Blogger Template
Note: In the above templates you will be able to remove footer credit from limited themes only because here I have also mentioned some paid themes whose footer credit can't be easily removed.
How To Install Blogger Templates?
There are two easy methods by which you can install blogger templates without any issue. In some templates, there are some issues so if the first method is not working try the second one.
#Method 1
Step 1: Log in to Blogger Dashboard
Step 2: Go to Theme → Restore
Step 3: Upload the blogger template you have
Step 4: Finish the import process
#Method 2
Step 1: Log in to Blogger Dashboard
Step 2: Go to Theme → Edit HTML
Step 3: Open .XML file of the theme in Notepad → Copy all the codes
Step 4: Remove already available codes
Step 5: Paste the theme code → Save
How To Customize Blogger templates?
There are different ways depending upon theme structure by which you can customize a Blogger Theme. So I'm going to share all the methods by which you can customize a blogger template more efficiently.
Step 1: Log in to Blogger Dashboard
Step 2: Navigate to Layout (Here you can drag and drop elements or add additional items)
Step 3: Go to Theme → Customize (Make Changes according to your wish)
Step 4: For more customizations, you can also navigate to Theme → Edit HTML
This is how you can customize a blogger theme. You can try all these different ways depending upon your knowledge about that thing. If you have good knowledge of HTML and CSS you can go with the Edit HTML
Don't forget to save the changes you have made otherwise it will not be applied to your blog and all your effort will go in vain.
People Also Ask
How To Edit Blogger Templates?
You can easily edit blogger templates by going to Layout/Customize/Edit HTML. Try anyone according to your comfort.
How To Make Your Own Blogger Templates?
Making your own blogger templates requires a good amount of coding knowledge but in the alternative, you can use a tool called Template Toaster by which you can easily create blogger templates by drag & drop.
What Is A Blogger Template?
A Blogger template is a design in XML format composed of CSS, XML, and JavaScript code that can be used to create a blog, website, or app using Blogger.com.
Why You Should Use Blogger?
Because Blogger is available for free with 100% uptime, fast loading, AdSense Integrated, No disk or bandwidth limit and most importantly it uses Google's Infrastructure.
Wrap Up
These are some of my favorite blogger templates that I use and recommend you to use. In the future, more beautiful blogger themes will be added here so make sure to bookmark this page, and don't forget to drop your valuable feedback in the comment below.
Happy Blogging!